Wood Shutters Will Add Warmth and Elegance to Your Home in Orlando, FL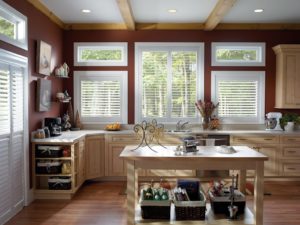 Nothing creates charm and sophistication quite like wood shutters. If you are a homeowner in the Orlando, Florida, area looking for a large selection of top-of-the-line wooden shutters, US Verticals is the company to partner with. We offer wood plantation shutters from a variety of leading manufacturers, including Norman and Alta Window Fashions.
Benefits of Wood Plantation Shutters
Homeowners have coveted wood shutters for decades thanks to the many benefits they provide. These shutters offer:
Luxurious Beauty
The luxe appearance of genuine wood shutters cannot be overstated. This gorgeous material brings the beauty of nature right into the home and creates a warm, inviting atmosphere. Plus, our wooden shutters are available in a variety of stains and paint colors, so you can design custom shutters that beautifully complement your home's interior design.
Exceptional Insulation
Wood is a natural insulator, which makes wooden shutters a great choice for Florida homeowners who have extreme heat to contend with. Our wood shutters will help trap cool air inside your home, so you can enjoy a more comfortable interior temperature.
Long-Lasting Value
Our wood plantation shutters are considered a permanent fixture and are designed to last as long as the home they're installed in. Because of this, having our plantation shutters installed could increase the resale value of your home.
Faux-Wood Plantation Shutters
If you love the way wood shutters look but want an easier-to-maintain option, our faux-wood plantation shutters are an excellent choice. These shutters offer all the benefits of genuine wood shutters, as they mimic the appearance of hardwood beautifully, yet they are easier to take care of and are better suited for humid spaces, like bathrooms and kitchens. We offer a wide selection of premium faux-wood plantation shutters, including the Woodlore® shutter from Norman, which is the best-selling shutter in the world, and we can help you find a style that meets all of your needs.
Why Partner With Us?
Our wood and faux-wood plantation shutters are always designed without cords, making them inherently safe for households with children and pets. And if you're looking for window blinds and shades for other areas of your home to complement your new plantation shutters, know that we offer cordless options in those styles as well. Helping our customers create safer homes for their children and pets is just one of the many reasons we've been the window treatment company of choice in the Orlando area for more than three decades. Some other reasons include:
We are locally owned and operated, so our customers can take pride in knowing they're supporting a local business when shopping with us.
We've been in business since 1988, and our decades of experience allow us to provide world-class service.
We maintain an A+ rating with the Better Business Bureau as a testament to our dedication to customer satisfaction.
We ensure that the composite and wood shutters we offer are installed by our very own talented employees, never unqualified subcontractors.
Learn More About Plantation Shutters
If you would like additional information about the wood shutters or faux-wood shutters that we offer at US Verticals, we encourage you to give us a call. Or better yet, stop by our showroom! It's expansive and houses all of our products, so you can experience their beauty and quality in person. One of our friendly team members would be happy to give you a tour and answer any questions you have about our shutters. We proudly serve homeowners in Orlando, FL, and throughout the surrounding areas.