Roman Shades Give Homes in Kissimmee & the Surrounding Areas in Orlando an Elegant Feel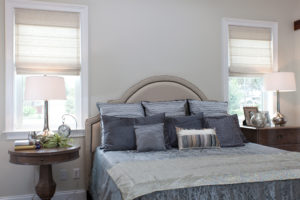 Roman shades are a type of window treatment characterized by soft folds of fabric which cascade when pulled up. This type of shade creates a cozy, sophisticated feel, thus making it a perfect choice for bedrooms and living rooms, or really anywhere you'd like to create a more luxurious look and feel.
If you're looking for a huge selection of all types of shades and window treatments, turn to US Verticals. Available in a wide variety of colors and fabrics, as well as with child-safe, cordless options, the Roman shades we are available in a wide variety of styles, including:
Classic Roman Shade
This version lies flat, making it a great choice if you're selecting a fabric with a busy pattern.
Hobbled Roman Shade
Fuller in body, this style keeps its folds even when lowered. This style works well with solid-colored or patterned fabrics, but it is not recommended for fabrics with a pattern that will be interrupted by the folds.
Knife Pleat Roman Shade
A folded shade, but with the pockets on the back for a softer look. Because of the pleating, this style is not recommended for fabrics with a pattern that will be interrupted by the pleats.
London Roman Shade
The most elegant look of the bunch, the London shade has decorative, inverted pleats on either side. This style works best with solid or textured fabrics, but not with patterned fabrics.
Relaxed Roman Shade
This soft flowing shade lies flat when lowered but always has a decorative curve at the bottom. Relaxed Roman shades work well with most fabrics.
Ribbed Pleat Roman Shade
Basically, this style is the knife pleat, but in reverse. The pockets are on the front of the shade to accent the pleats.
To see all of these types of Roman shades in person, contact US Verticals today and schedule a consultation at our showroom. One of our team members would be happy to help you select the best type of window treatment for your home.