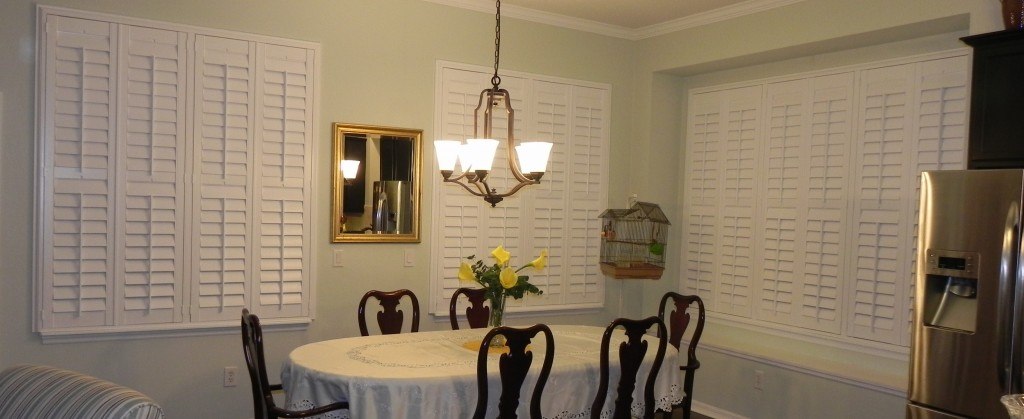 Plantation Shutters come in a variety of different materials. Each material offering it's own unique benefit. For example, if you seek a shutter that is more budget friendly, you may want to consider a material other than Hardwood. If you need a waterproof shutter for the inside of a shower, you would be best to use either Vinyl or a Waterproof Composite. If your room calls for a custom stained shutter to match your existing carpentry, then a Wood Shutter would serve you best. But how do you decide which type is best for your home? Here is some information about the Plantation Shutters we offer.
---
"Composite" Shutters – Shutters that are built from a variety of materials and not just hardwood.

Woodlore Shutters are built from a Solid MDF Core which is then coated in a Polypropylene finish. The MDF Gives it a strong solid core, while the outer finish is designed to make the shutter water-resistant and give a flawlessly smooth finish that looks identical to wood. Honestly, you would find it extremely difficult to determine between this and a painted wood shutter. Woodlore Shutters are our best selling shutters by far, due to their beauty, longevity, and affordability. More Info…

Woodbury Shutters are built from an ABS Composite, which an advanced Thermoplastic that allows the shutter to be both strong and completely waterproof. It is designed to match the finish of other Norman Shutters, and is the perfect choice in a constantly wet environment such as a shower or steam room.

Eclipse Shutters are built using an extruded Vinyl called PolyResin 3. Eclipse has also just introduced their UltraSatin™ finish, which looks much more like a painted finish than their previous finish. The finish is very durable and being that they are made 100% from Vinyl Materials, they are also completely waterproof. Another good choice in consistently wet environments.
---
Wood Shutters – Plantation Shutters whose construction is made entirely out of hardwood. Each shutter uses a different species of wood and offers it's own unique benefits.

Normandy Shutters are our number one choice for entry level wood shutters. They have a very competitive price point for wood shutters, and are a very beautiful shutter. They can also be used for specialty shapes, which make them a good choice for Arches, Rake Windows, Eyebrow Windows, etc. The species of wood used in Normandy Shutters is called PhoenixWood. It is a sustainable hardwood that is strong, lightweight, and sustainable. It accepts a painted finish very well, and has a unique grain texture for staining. With stained Normandy Shutters, the grain is quite pronounced, so if you are looking for a more subtle, traditional stained look, you may want to consider Sussex Shutters. More Info…

Sussex Shutters are Norman Shutters' Premium Hardwood Shutters. They are an incredible shutter. They are built using a sustainable species of Teak that provides the shutter with incredible strength and beauty. Sussex Shutters were made to be stained! Don't get me wrong, Sussex Shutters look great painted, but for most people the allure of Sussex Shutters is the gorgeous finish on their Stained Shutters. The grain of the wood offers a nice variation for staining, so the coloring of a Sussex Shutter is rich and beautiful. Sussex also has some incredible options that no other Norman Shutter can boast. Options, such as Raised Panels, Hand Carved Rail Designs, and A huge selection of Specialty Stains. More Info…

O'Hair Shutters boasts many great features about their American-Made Plantation Shutters, but the major talking point has to be the Shutter's strength. O'Hair has built a truly rock solid Wood Shutter. This allows them to make shutters with Panel Sizes up to 50″ wide, which is completely unheard of in the industry. Their shutters have more frame choices than any other Shutter company, and their straight louver design offers a more traditional old world charm. O'Hair Shutters work incredibly well on Beachside properties, where homeowners want a beautiful, elegant shutter, but also don't want anything to get in the way of their incredible views. O'Hair has some of the largest louver spacing in the industry, which leads to incredible views through their shutters.
---
Aluminum Shutters – Aluminum Shutters are rapidly growing into an incredibly popular choice for plantation shutters, especially in outdoor spaces!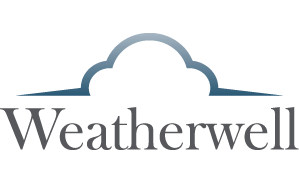 Weatherwell Aluminum Shutters are an incredible Aluminum Shutters that work very well for Outdoor Living Spaces or Commercial Applications. The powdercoated finish on the Weatherwell mimics a painted finish which gives it a nice traditional shutter feeling, and the strength that the aluminum construction provides is unmatched.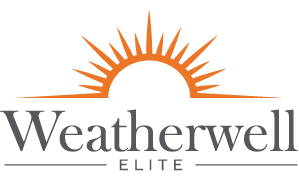 Weatherwell Elite Aluminum Shutters are an absolutely incredible Aluminum Shutter. Weatherwell is completely unrivaled when it comes to outdoor shutters. Strong Powdercoated Finishes available in both Painted Colors and Wood Grains make them an incredible choice for outdoor kitchens, gazebos, etc. You honestly have to see these shutters in person to get a true grasp for just how amazing they are. They even boast options like a Key Lock, for added security! If you are in the process of designing an outdoor living area, you should truly consider WeatherWell Elite Shutters as a part of your project.