In addition to our extensive lineup of Window Treatments for inside your home, we are proud to offer a great selection of Exterior Window Treatments as well! Whether you are looking for Roller Shades, Wood Exterior Shutters, Aluminum Shutters, or Bahama Shutters; rest assured that we can design the perfect custom exterior window treatment for your home!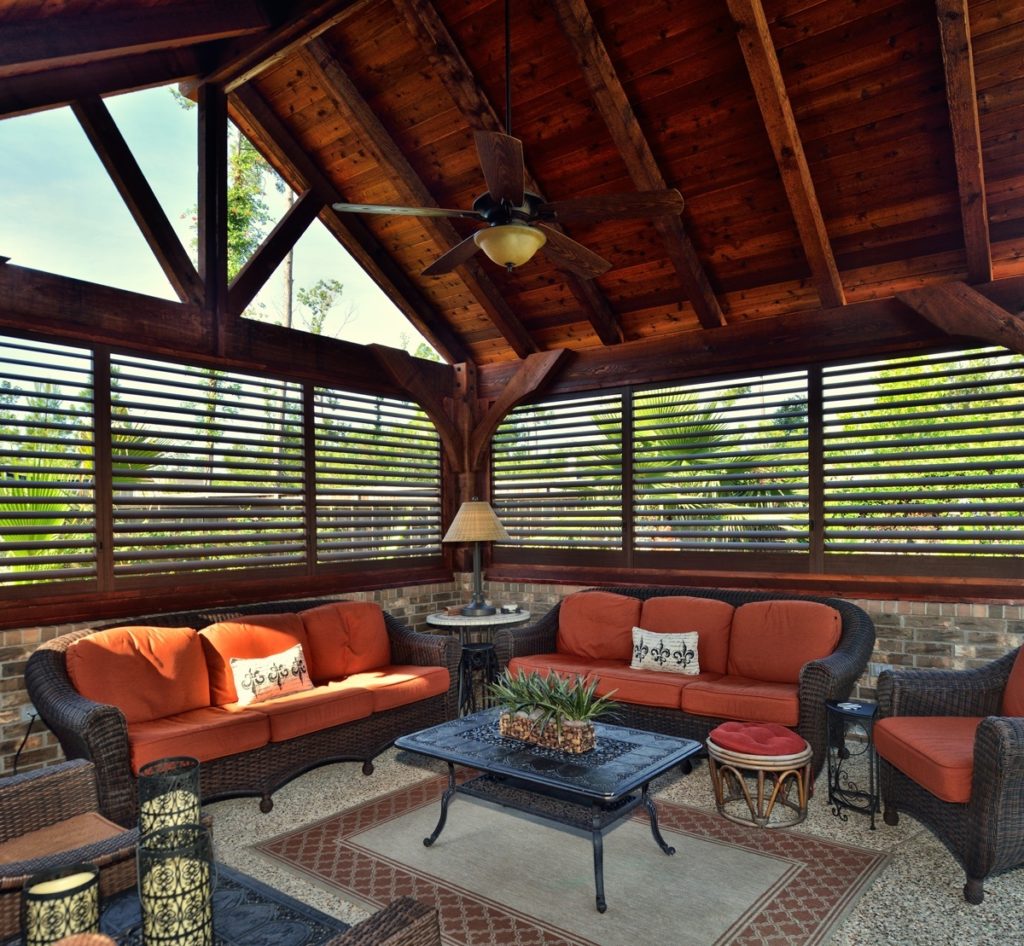 Aluminum Plantation Shutters are perfect for outdoor living spaces such as Outdoor Kitchens, Pergolas, Florida Rooms, and anywhere else that you need protection from the sun or wind. Our line of Outdoor Aluminum Shutters is powdercoated with a durable finish that will outlast any other Exterior Shutter on the market! Learn more about our Exterior Aluminum Shutters…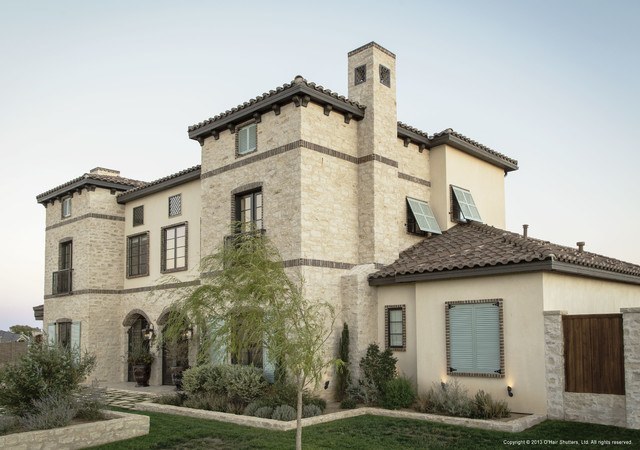 We are proud to offer Thermally-Modified Hardwood Exterior Shutters from O'Hair Shutters. O'Hair Shutters manufactures our Custom Exterior Shutters for us over in Lubbock, Texas. O'Hair manufacture their Outdoor Wood Shutters using American Hardwood in their construction, and then Kiln-Drying the wood to make the material more stable and less attractive to insects. Simply put, O'Hair Exteriors are the most durable outdoor Wood Shutter on the market today. Learn More about O'Hair Exterior Wood Shutters…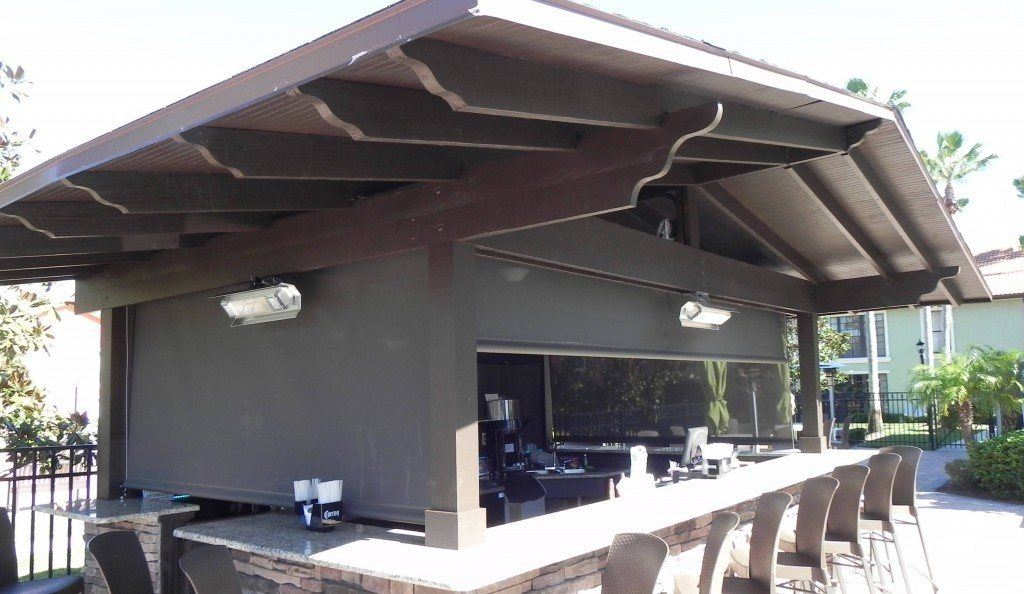 We are very proud of our Exterior Roller Shades. We currently offer a selection of Outdoor Clutch Driven Shades and also a full line of Exterior Motorized Shades. All of our Exterior Fabrics come with a 10 year warranty, and are available in a variety of different colors and textures. We utilize Stainless Steel Cable Guides to prevent the bottom rail from swinging, and always use durable outdoor rated fasteners to ensure your shades withstand the elements for years to come. Learn More about our Exterior Roller Shades…
Bahama Shutters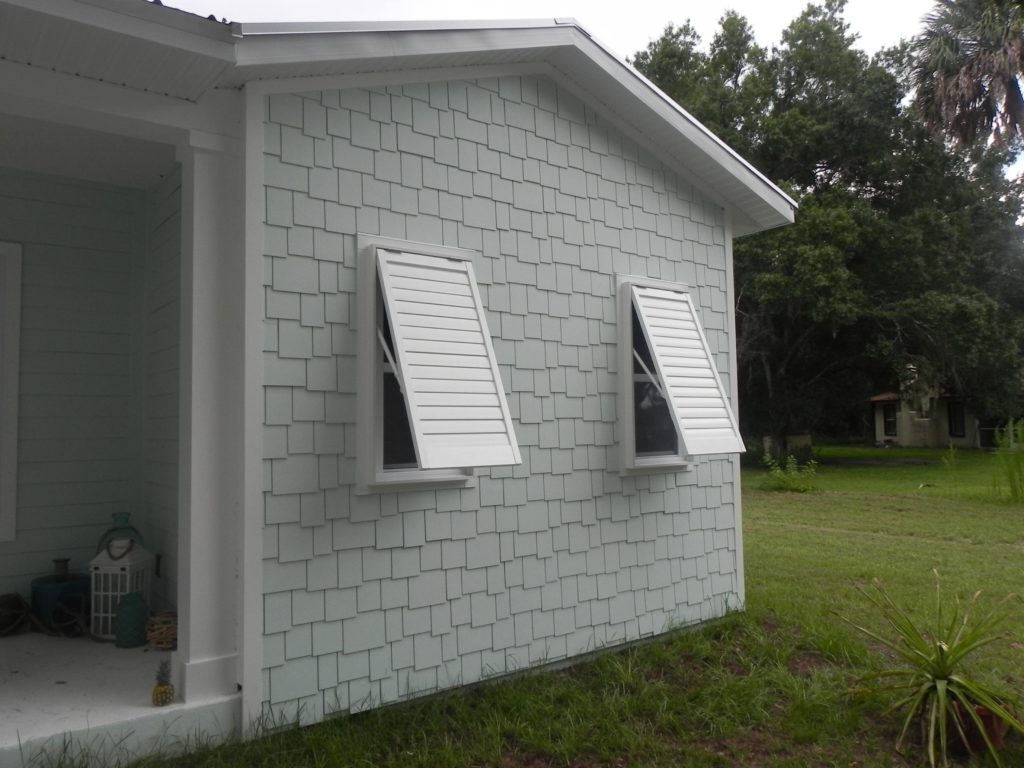 Bahama Shutters are rapidly becoming one of our most popular requests for Exterior Shutters. We are proud to offer fully operational Bahama Shutters in both our Powdercoated Aluminum Shutters, and also our Thermally-Modified Hardwood Shutters. Bahama Shutters have the ability to completely change the style of a home's exterior. Bahama Shutters are a staple of Key West decor, and as such fit incredibly well with someone looking for a more tropical look for their home's exterior. Learn more about our Bahama Shutters in either Wood or Aluminum.