Are Roller Shades the Right Fit for Your Apopka, FL, Home?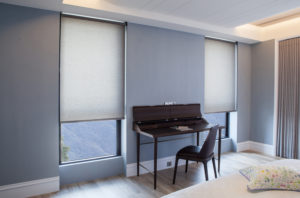 As you explore the world of window treatments, you'll quickly realize that there is more than one type of shade. Among these, however, roller shades have quickly become a popular option—particularly for Floridians. To help you navigate the perks of this type of window shade and determine if it's the best fit for your Apopka, Florida, home, the experts at US Verticals have put together this quick overview.
Benefits of Roller Shades
Roller shades are easy to spot thanks to their name: Roller refers to the rolling rod, which you can find at the top of the window covering, and shade indicates the type of window treatment. These window coverings operate with a tension mechanism that wraps the fabric of the shade around the rolling rod. For this reason, they are simple to operate—rolling up to open or rolling down for privacy and light control.
Roller shades are among US Verticals' most customizable window treatments; you'll be able to choose from over 500 materials, including suedes, natural weaves, lace, and solar screens. The material you select will help you control the level of shade and privacy provided by the treatment. However, many of our customers choose to layer their roller shades with curtains or other types of soft window treatments. With so many design options, you're sure to find the perfect combination of aesthetic appeal and function.
Turn to US Verticals
The roller shades that we offer are top-of-the-line and sourced from industry-leading manufacturers, like Norman®. US Verticals' roller shades are also easy to motorize for convenient and safe operation. Installed by in-house experts—never subcontractors—your new window treatments are sure to live up to your expectations. Contact us today to learn more about the roller shades we offer Apopka, FL, homeowners.