Top-Notch Window Treatment Repair for Your Home in Orlando, FL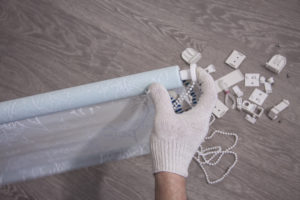 Your window treatments play an important role in providing you with privacy and light control. They also represent a significant investment, which is why you dread discovering this element of your décor has sustained damage. If this unfortunate event does occur, you'll be happy to know you have options. US Verticals provides homeowners in Orlando, Florida, and the surrounding area with window treatment repair services. Our team of full-time, in-house installers will happily assess the damage and determine whether shutter or blind repair would be cost-effective. If it is, we can restore your window treatments to full functionality.
Our Services
Since 1988, US Verticals has provided homeowners in the Orlando area with beautiful custom window treatments. While we would be happy to install new shutters, blinds, or shades in your home, we also repair all sorts of window treatments. This includes:
Plantation Shutters
Few window treatments rival plantation shutters for their beauty or richness. For this reason, damaged or displaced louvers can take a toll on your interior design. Fortunately, one of our trained window treatment repair workers can quickly restore your window shutters to operable condition. We can:
Re-attach any displaced louvers, ensuring the entire shutter operates as a single, fluid unit
Replace any cracked or bowing louvers with new, solid counterparts that preserve the appearance of your window treatments
Best of all, our plantation shutter repair services cost much less than purchasing a new custom unit.
Vertical Blinds
Your vertical blinds function as an attractive and easy-to-operate privacy solution for large windows and sliding glass doors. When they break, however, frustration often ensues as you struggle to access the exterior door or sweeping vista they hide. Don't fight with your window treatments. US Verticals offers superb vertical blind repair services. We can:
Replace a blind slat – Broken or missing vanes can stick out like a gap-toothed smile and limit your blinds' ability to protect your privacy and control the light. Instead of purchasing an entire pack of slats to obtain one or two pieces for blind repair, contact US Verticals. We sell individual slats, which enables you to purchase only what you need and eliminates waste.
Re-stuff a blind track – A broken blind track keeps the entire unit from functioning. If you bring the track to our showroom, we can "re-stuff" it for you, reusing the outer aluminum track while replacing the interior mechanisms. We'll use a hardened nylon cord and PVC/nylon chain to prevent future track failure. Our blind repair specialists will also install a self-aligning carrier system, which allows you to easily twist out-of-sync vanes back into alignment. When we've finished, your blind track will function like new, and you'll pay a fraction of the cost of replacing it.
The best part? Our vertical blind repair services can be completed in as little as a day!
Horizontal Blinds
Many homeowners in the Orlando area value faux wood blinds for their hardwearing beauty. However, these window treatments can require repair too. While it is possible to replace a broken slat or repair a blind tilt mechanism, we find that these fixes cost you more than purchasing new horizontal blinds. If your faux wood horizontal blinds need replacing, US Verticals locally manufactures our own line of timeless, durable, customizable window blinds. We would be happy to schedule a complimentary in-home consultation and provide you with a quote for your blind replacement.
Get Started Now!
Would you like to restore functionality to your window treatments? Contact US Verticals today to learn more about the window treatment repair services we offer to homeowners in Orlando, FL.