What Type of Window Treatment Is Best for Sliding Glass Doors?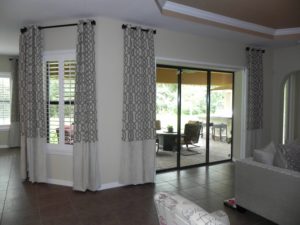 Sliding glass doors are popular because they are an aesthetically pleasing way to allow plenty of natural light into the home while creating a seamless flow between indoor and outdoor spaces. But finding top-quality window treatments that won't detract from the look and usefulness of sliding doors can be a challenge. For instance, if you prefer the decorative elegance of draperies or window curtains, you may very well need to install tiebacks to cinch them aside. If not, you could end up with a covering that obstructs door access and blocks a fair amount of the sunlight entering your home.
Fortunately, there are a number of different window treatments on the market, and over the years, two options have proven especially popular for use with sliding glass doors. With thoughtful research and a little contemplation, you'll be sure to find an option that will satisfy your design preferences and specific needs.
Vertical Blinds
One of the most widely available window coverings, vertical blinds offers arguably the best solution for privacy concerns in homes with sliding glass doors. With slats that overlap slightly, these blinds make for easily adjustable shades, thereby giving you convenient light and privacy control. When closed, vertical blinds lie flat against the sliding doors, and when open, they can be positioned to let in as much light as you want. Just as importantly, you can draw them completely to one side of your doors and arrange the slats neatly against each other.
Plantation Shutters
These are stylish coverings that offer an undeniable measure of sophistication. They are available in several different materials and finishes, from stained or painted hardwood to wood composite. Some plantation shutters come with a track – much like glass doors – on which the shutters can slide open or closed; other options have hinges that enable you to fold them open or closed. Both methods work reliably well. For optimal light control that affords you the view and privacy you desire, plantation shutters come with wide or narrow louvers.
Consider US Verticals
As you can tell by our name, US Vertical offers and installs blinds for sliding glass doors. In fact, we custom-make blinds in hundreds of attractive designs and colors to match virtually any home's décor. We also offer plantation shutters. Made by the industry's top manufacturers, such as Norman Shutters® and Alta Window Fashions, our options include louvers in different sizes, colors, and finishes to complement your home's aesthetic, and shutters in custom shapes to fit your windows. Contact US Verticals today to explore your options.