Where Can I Find Wood Window Shutters for the Outside of My Home?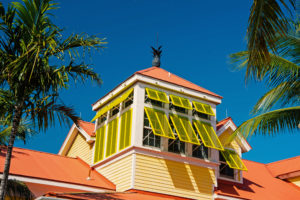 Exterior wood shutters provide your windows, porch, or cabana with a touch of classic, dignified beauty. If you find yourself drawn to this elegance, then you might find yourself asking: where can I find wood shutters for the outside of my home? The answer to that question seems simple: most big box home improvement stores or online retailers. However, not all wood products are created equally. Your exterior wood shutters should endure through extreme weather conditions and years of use, maintaining their beauty instead of becoming an eyesore.
Before you purchase wood window shutters for the outside of your house, here are some things that you should consider.
Wood Type
Manufacturers construct wood shutters from one of two products: hardwood or medium density fiberboard (MDF). Expensive hardwoods like cedar and redwood showcase a rich grain and are less likely to warp and twist after environmental exposure. As a composite material, MDF tends to be a bit more fragile. However, it can be engineered to resist environmental factors like humidity and insect damage, which can make your shutter easier to care for.
Wood Treatment
In order to prepare wood shutters to endure the elements, a good manufacturer will treat their wood before and during construction. Thermal modification can increase the durability of wood, while seasoning the wood for specific humidity levels can reduce shrinkage and swelling. Composites like MDF give manufacturers greater control over the characteristics of the wood, allowing it to withstand specific environmental factors.
Wood Construction
Modern technology has given rise to numerous ways to assemble wood shutters. However, the ancient technique of mortise and tenon joinery is widely considered one of the strongest woodworking joints for a 90° angle. Shutters that utilize mortise and tenon joinery when connecting rails and styles are more likely to last longer, as are shutters that utilize a copper or aluminum "cap" to protect the top of the shutter from splitting.
Finding wood shutters for outside your home may be easy, but finding wood shutters that remain beautiful outdoors for years to come isn't. If you want durable and elegant wood shutters for your home, contact US Verticals today.