Cellular Shades vs. Window Blinds: Which Is Right for Your Home?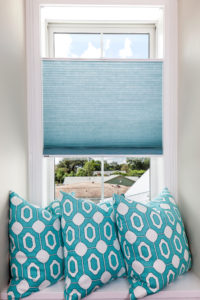 Welcome to the age-old window treatment debate! Most people assume that shades and blinds are interchangeable. What they don't realize is that each style provides its own unique set of features and benefits. The easiest way to tell the difference between blinds and shades is as follows:
Cellular (honeycomb) shades – These window coverings are designed from a continuous piece of fabric and feature a honeycombed, accordion design that folds up when closed.
Window blinds – These treatments are typically designed from hard materials and feature horizontal slats for precise light control.
To help you determine which option is the best fit for your home, here are some considerations to keep in mind:
Maintenance
Blinds and shades will collect dust over time. To clean blinds, wipe down the hard surface with a soft cloth or duster. Cellular shades can be gently dusted or vacuumed with a brush attachment. If you're installing new window treatments in a high-traffic area, blinds might be the better, low-maintenance option.
Privacy Control
Any window treatment will provide you with some level of privacy and light control. Blinds have individual, moveable slats, whereas shades are crafted from a solid piece of fabric that can range in transparency. By customizing your shades or window blinds, you'll be able to tailor a product that works for your privacy and light control requirements.
Thermal Performance
Unfortunately, most blinds aren't designed to keep outdoor temperatures where they belong—focusing more on light control and privacy. Cellular shades, on the other hand, are specifically designed with honeycombed pockets that trap air to insulate your windows.
To learn more about cellular shades and/or window blinds for your Florida home, turn to the experts at US Verticals.