Long-Lasting Vertical Blinds Installed in Davenport, FL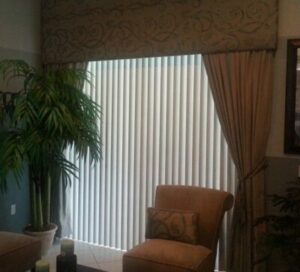 If you're looking to have new vertical blinds installed in your Davenport, Florida-area home or business, US Verticals is ready and willing to help. We're a trusted window treatment company that has unparalleled experience installing a variety of window treatments for local homeowners and business owners, and we have a great reputation thanks to our high-quality products and dedicated service. We have a selection of stylish vertical blinds that have all the benefits you're looking for, and we'd be happy to be your partner for this important investment.
Customize Your Vertical Blinds
We have a number of customization options for your vertical blinds, so you can get the ideal ones to match every room of your home or business. Our options include:
Smooth vinyl
Textured vinyl
Fabric blinds in various materials
We'll work with you to choose the ideal material, color, or pattern for your vertical blinds so that they perfectly suit your interior space. Our vertical blinds are extremely low maintenance, so cleaning will be a breeze. You'll also be able to choose a standard cord or a safety wand for operation. If you have small children or pets, our safety wands are a safer option that will eliminate the need for potentially dangerous cords.
Want to Know More?
If you're interested in having our stylish vertical blinds installed in your home or business, contact US Verticals today. We are proud to serve those in the Davenport, FL, area and look forward to helping to enhance your home's windows.