Turn to US Verticals for Gorgeous Faux Wood Blinds for Your Orlando Home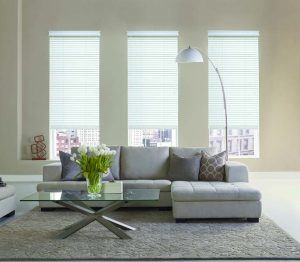 Are you considering adding faux wood blinds to your home? Then turn to US Verticals, your source for a wide selection of blinds, shades, and shutters that will be the perfect fit for your home. Since 1988, we have been helping homeowners throughout the region select the right window treatments for their homes while also providing professional installation services. You can count on us to help you find the blinds or shades that will enhance the aesthetic appeal of your Orlando home.
Faux Wood vs. Real Wood
On the fence about choosing faux wood blinds versus real wood? While real wood remains a popular option, faux wood offers several advantages. These include that faux wood is:
More cost-effective than real wood
A low-maintenance option
Extremely durable, designed to stand the test of time
Resistant to moisture and humidity
More customizable, with many colors available
Just as attractive as real wood
Real wood offers several advantages as well, including being lighter and being available in numerous finishes. When choosing between the two options, it's important to consider which benefits are most important to you.
Get Started Choosing Window Treatments Today
Whether you know exactly what type of blinds or shades you'd like for your home or are still unsure of the many options available, the professionals at US Verticals are here to help. Contact us today so we can provide personalized assistance to help you learn about the faux wood blinds and other window treatments we have available for your home in Orlando.