Choose Window Blinds to Enhance Your Home in Apopka, FL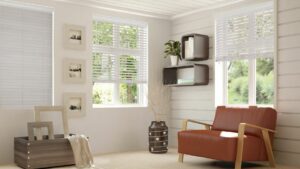 If you're looking for new window blinds for your home, there's no better company to turn to than US Verticals. Since 1988, we've been helping homeowners with all of their window treatment needs, from custom designs to the finished installation. With decades of experience behind our name as well as a long list of happy customers, we are pleased to be the window treatment company of choice for homeowners in and around Apopka, Florida.
Explore Your Options for Window Blinds
The right window blinds can complement your home's aesthetics while providing the brightness control and comfort level you desire. When you want a completely unique look for your home, custom window blinds are the way to go. At US Verticals, there's no shortage of customization options for your new window blinds either, as you'll be able to choose the:
Style – We offer both vertical blinds and horizontal blinds in a variety of styles.
Material – You'll be able to choose from natural wood, vinyl, faux wood, and more to suit your preferences for aesthetics and maintenance.
Texture – From woodgrain textures to smooth surfaces, you can select the texture and finish that best suits your home.
Functionality – Whether you're looking for an option that offers better energy efficiency, a high level of room darkening ability, or a cordless design for child safety, we've got what you need.
Get started customizing the perfect window blinds today by contacting US Verticals. We are your source for all types of window treatments in and around Apopka, FL.