Where Can I Buy Top-Quality Window Shutters?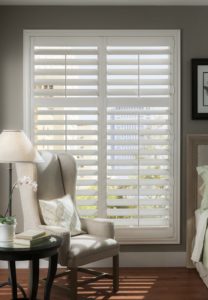 Flip through any home improvement magazine and you're sure to find ads or articles highlighting window shutters, especially plantation shutters. It's not surprising, given that plantation shutters are such distinctive interior design elements. Plus, they're always in fashion. That's because very few window treatments lend homes the finished look that shutters impart. As elegant as they are, however, plantation shutters provide much more than enhanced visual appeal. With wide louvers that can be tilted in any number of ways and hinges that allow panels to be fully opened, plantation shutters offer exceptional light and privacy control. This, combined with the fact that they are one of the most durable types of window coverings available, has long made them a top choice for homeowners.
Today's shutters come in a variety of materials, like gorgeous teak wood, water-resistant wood composites, and hardwearing polymer composites, making them a great option for a range of budgets. No matter what type of material you choose, however, it's best to stick with well-known manufacturers. Companies like Norman®, Eclipse®, and Alta Window Fashions create some of the finest products on the market. The question is, where in the Reunion area can you find well-engineered plantation shutters like those?
US Verticals Is Here for You
As a leading provider of window coverings since 1988, US Verticals offers homeowners highly customizable plantation shutters at competitive prices. At our extensive showroom near Reunion, you will find shutters from all the manufacturers mentioned above, and in materials to suit your taste and budget, from traditional painted wood to waterproof thermoplastic polymer. They also come in louvers of different sizes, colors, and finishes to blend with your home's décor, and are available in custom shapes to match just about any window.
Want to know more about our offerings? Stop by our showroom, browse at your leisure, and let us tell you all about them. Or, if you prefer, you can contact us today for an at-home consultation that includes a free estimate.