Gorgeous Custom Shades for Your Home in Davenport, FL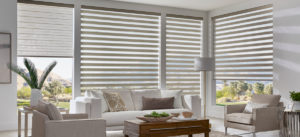 "We carry the finest window shades in the tristate area!" Yes, you've probably heard something like that before. Here at US Verticals, we don't want to bore you with clichés. We have no desire to announce breathlessly that we offer custom shades from the industry's most respected manufacturers like Norman Shutters® and Coulisse – even though it's true. We don't need to bellow that our products come in a range of design options to suit your aesthetic preferences – which is also a fact. Instead, we invite you to visit our showroom near your home in Davenport to see our remarkable shades for yourself.
Here, you will find shades suitable for virtually any interior design project, whether you're planning a living room makeover or updating a guest bedroom. Our vast selection of shades includes:
Roller shades that practically disappear when retracted
Roman shades for an elevated sense of sophistication
Cellular shades that trap solar heat for improved thermal performance
Sheer horizontal shades that soften glares to create a cozy ambiance
Of course, all our shades are customizable. To help you complement your décor, these shades are available in a vast array of colors, from assertive bold patterns to subtle neutrals. And, because our shades come in several fabric options, you can enjoy your preferred level of privacy and brightness.
Buy with Confidence
As our A+ rating from the Better Business Bureau attests, we are top-notch window treatment professionals. This means that we never subcontract out our work, and only our trained and experienced employees will install your new shades so that they fit seamlessly and operate smoothly every time. To give you even more peace of mind in our shades, we provide free service calls on any warranty claims we receive.
For more information about the types of custom shades we offer in Davenport, contact US Verticals today.