Can You Put Plantation Shutters in a Bathroom?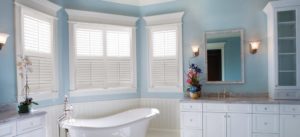 When exploring window treatment types for different rooms in your home, the bathroom shouldn't be overlooked. Plantation shutters make for the perfect bathroom option, as these window treatments excel at improving light and privacy control. However, many homeowners puzzle over whether or not these permanent fixtures are appropriate in bathrooms, where humidity can potentially wreak havoc on the design over time. So:
Can you put plantation shutters in a bathroom? And is it a smart choice?
Yes, you can install plantation shutters in your bathroom as long as you research material options and properly maintain them. Since plantation shutters are considered permanent fixtures, they are a valuable investment and should be designed to last for as long as you own your home.
The Best Materials For Bathroom Plantation Shutters
To ward off potential damage from shower and bath steam, your plantation shutters need to be crafted out of a material that can withstand exposure to humidity. Some of the best materials for the job include:
Hardwood shutters can also be a beautiful addition to any bathroom window. While most wooden shutters are incredibly thick, to further protect against damage caused by steam and humidity, consult with an expert about the product's design. Wood plantation shutters that are designed for the bathroom should be properly coated to make for a more water-resistant product.
US Verticals is Here for You
Whether you decide to purchase plantation shutters for your bathroom or not, US Verticals has the custom window treatment options you can count on. Regardless of their composition, our plantation shutters are sourced from industry-leading manufacturers, crafted with absolute precision, and installed by factory-trained, in-house employees who are well-versed in their craft.
To schedule your free consultation or to learn more about our window coverings, contact us today!