Locally Manufactured Window Blinds from US Verticals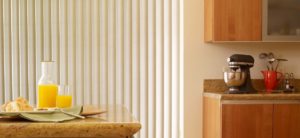 When upgrading your window blinds, you want something more than the generic taupe products that you'd find at your average big-box store. No, you want your window coverings to enhance your décor, look like a natural extension of your windows, and keep you safe from hot afternoon light and the prying eyes of your neighbors. Why not let US Verticals help? Since 1988, we've provided homeowners in Orlando and throughout Central Florida with high-caliber custom window treatments. The personalization options that we offer aren't available through our competitors, which is why most Floridians turn to us when looking for window blinds that wow.
Types of Window Blinds We Offer
We believe that your window treatments ought to look as though they belong to your home, fitting neatly to your windows and effortlessly complementing your furnishings. That's why we offer a wide selection of custom window blinds—including motorized blinds—each of which is created to fit the specific measurements of your windows. This includes our:
Vertical blinds – Perfect for large windows and sliding glass doors, our vertical blinds come in several configurations, from tailored straight vanes to gently curved vanes that possess a soft, elegant look.
Faux-wood horizontal blinds – Custom-manufactured right here in Florida, our 2" and 2.5" faux-wood blinds come in several colors and rich woodgrain patterns. Regardless of your choice, you'll enjoy the fact that these window blinds are low maintenance.
Wood horizontal blinds – Boasting a selection of unquestionably rich finishes that highlight the dynamic whorls and eddies of natural woodgrain, these window blinds will surely add a touch of elegance to your room.
Aluminum mini blinds – Do you want your blinds to provide your space with a bit of modern style? Our aluminum mini blinds, which come in bold and subtle colors, will make a surefire statement.
No matter which window blinds are best for your home, rest assured you'll be able to customize them to fit your wants and needs exactly. Our customers even have the ability to add 1" decorative fabric tape over the strings of the blinds, masking the plain strings to add a more eye-catching design.
Best-in-Class Performance
Of course, appearance isn't everything when it comes to your window blinds. You also want to make sure that they work properly, providing you with much-needed privacy and light control. Fortunately, you won't have to worry about that when you partner with US Verticals—we make sure that our blinds look beautiful and function flawlessly. Our blinds have intricate operation mechanisms for precise control, and you can even upgrade to motorized blinds in order to adjust the light at the touch of a finger. Motorized blinds are also perfect for those with hard-to-reach windows. For households with small children or pets, we'll make sure to install blinds that possess child-safe operation mechanisms. This gives you the ultimate peace of mind.
Contact US Verticals today for more information about the window blinds we can install in your Orlando, FL, home. Or, stop by our showroom to see our blinds in person. We would be happy to serve you.