Locally Manufactured Window Blinds from US Verticals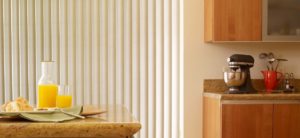 Are you looking for something special when it comes to window blinds in your home in the Orlando, FL, area? If so, then you should look no further than US Verticals. We've been in business since 1988, and we offer customization for blinds that aren't available through our competitors, and in fact, that many people don't even know exist! Options include sand-brushed window blinds that mimic driftwood in appearance, making these a great choice for homes decorated with coastal decor. Our customers even have the ability to add 1" decorative fabric tape over the strings of the blinds, masking the plain strings to add a more eye-catching design. Or, if our customers are concerned with the safety of strings in their home if they have young children and/or pets, all of our window blinds are available in a cordless option.
Types of Window Blinds We Offer
Vertical blinds – Our custom-made vertical blinds work great for large windows and sliding glass doors.
Horizontal blinds – We offer a variety of horizontal blinds. We custom-manufacture our 2" and 2.5" faux-wood blinds, and we also offer stained wood blinds, painted wood blinds, and mini blinds from top-rated window treatment manufacturers like Norman and Alta Window Fashions.
No matter which window blinds will be best for your home in the Orlando area, rest assured you'll be able to customize them to fit your wants and needs exactly. Our blinds come in a variety of gorgeous colors, and even have motorization options.
Contact US Verticals today for more information or stop by our showroom to see our blinds in person. We would be happy to serve you.