Installing Premium Window Shutters in Altamonte Springs, FL, Homes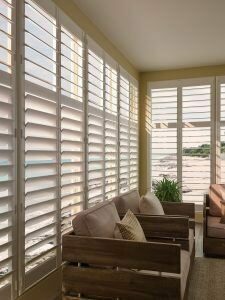 Are you looking to have new window shutters installed at your home or business in Altamonte Springs, Florida? We have helped numerous homeowners and business owners enhance their windows with high-quality window treatments, and we have a great selection of premium shutters for your choosing. Our window shutters will add a unique old-world charm to your interior space, while also helping to increase your insulation and privacy.
Types of Window Shutters
At US Verticals, we offer several options for window shutters so that you can choose the option that best meets your budget and functional needs. Our options include:
Composite shutters, which combine the attractive aesthetic of wood shutters with the enhanced durability of strong composite construction
Polyresin shutters, which provide enhanced durability as well as exceptional UV protection
Vinyl shutters, which are low maintenance and will maintain their like-new appearance for years to come
All of the window shutters we offer are available in numerous colors and finishes, so you can be sure that we have an option that will suit the aesthetic of your home or business. Once you solidify all of the design options, our skilled technicians will complete your installation according to our high standards for quality so that your shutters stand the test of time.
Now What?
To learn more about having our premium window shutters installed in your Altamonte Springs, FL, home or business, contact the team at US Verticals today to learn how to get started.