Offering a Variety of Window Shutters for Homeowners in Hunter's Creek, FL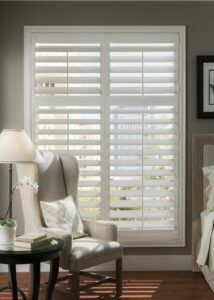 Window shutters are highly durable, attractive, and functional window treatments that are popular among homeowners. Whether you're looking for better energy efficiency, brightness control, or privacy throughout your home, a set of window shutters can accomplish all of these goals. And homeowners in Hunter's Creek, Florida, can find exactly what they're looking for when they turn to US Verticals for window shutters.
Find the Right Window Shutters for Your Home
At US Verticals, we're here to help you find the window shutters that will be the perfect fit for your home. Our extensive selection includes:
Norman® shutters – We offer Woodlore®, Normandy®, and Norman Ultra® shutters, each of which offers a gorgeous aesthetic and enhanced features. Whether you'd prefer the aesthetic of a wood composite shutter or the low-maintenance Woodlore plantation shutter, you can expect a top-notch product for your home.
Eclipse® shutters – These shutters are made from vinyl and require little to no maintenance over the years to keep them looking like new.
Alta Window Fashions shutters – These polyresin shutters are UV resistant and Greenguard certified, helping to beautify your home while also ensuring a safe environment.
What's more, all of our window treatments are highly customizable to suit your aesthetic preferences. You can even opt for motorization so that you can control your window shutters with a smartphone app. No matter what you choose, you can also rely on US Verticals to ensure your new window treatments are properly installed for long-lasting beauty.
Contact US Verticals today to learn more about the window shutters we offer and install for homeowners throughout Hunter's Creek, FL.