Your Source for Motorized Blinds in Orlando Is US Verticals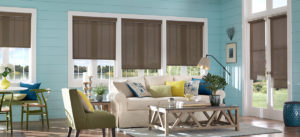 Motorized blinds are an excellent option for Orlando homeowners looking for a modern and luxurious window treatment, but many wonder if this option is worth the investment. At US Verticals, we've been providing homeowners with all types of blinds and shades since 1988, so it's safe to say we know a thing or two about the various window treatments available. We can help you pick out the perfect blinds for your home, whether motorized blinds or traditional shades end up being the right option for you.
A Smart Investment for the Discerning Homeowner
There are several reasons why homeowners opt for motorized blinds, and luxury is just one of them. Consider these benefits of motorized window treatments:
Safety – For homeowners with young children or explorative pets, motorized blinds can greatly enhance your home's safety. Say goodbye to cumbersome cords that pose a serious hazard to your loved ones and avoid annoying tangles and knots to boot.
Convenience – Motorized blinds add a touch of luxury to any home, providing modern convenience and style. Additionally, if you have blinds in hard-to-reach places, motorized blinds are the perfect solution. You'll be able to control light and heat infiltration through any of the windows in your home, even in places you wouldn't ordinarily be able to reach.
Energy efficiency – Chances are, you don't spend all of your time at home carefully extending or retracting your blinds based on the intensity of the sun's rays. With motorized blinds installed on your home, you can schedule your blinds to lift up or drop down during specific times of the day to increase the energy efficiency of your home.
Are You Weighing Your Window Treatment Options?
At US Verticals, we're here for you. Our trained and experienced professionals can help you determine which window treatments are the right solution for your home, whether it be motorized blinds or a traditional set of shades. Contact us today for more information about the options we have available for homeowners in and around Orlando, FL.