Custom, Gorgeous Blinds for Homeowners in Reunion, FL, from US Verticals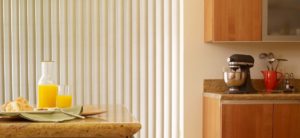 If you are looking for a wide selection of gorgeous blinds for your home in Reunion, FL, then look no further than US Verticals. We have a massive showroom that has all of our products on display, allowing you to see our window treatments in person, as well as different mechanisms and ways to operate the blind and tilt systems, including motor, no string, and strings.
We carry the following interior blinds:
Horizontal Blinds
2" and 2.5" faux-wood blinds – If you're looking for locally manufactured, top-of-the-line blinds, these are a great choice. We manufacturer these faux-wood blinds ourselves, and they mimic the look of real wood but are more durable and require less maintenance.
Stained and painted wood blinds – Real hardwood blinds come in either stained or painted finishes, allowing you to choose the aesthetic that best suits your home and preferences.
Mini blinds – Our mini blinds are offered in six or eight gauge aluminum and made in America from premium-quality materials, so they won't sag, warp, crack, or discolor after being exposed to the intense Florida sun. Choose from over 62 different colors to perfectly complement your home!
Vertical Blinds
Vinyl vertical blinds – Manufactured right in our own facility, our vertical blinds are available in a wide variety of styles and colors. We also carry these from top manufacturers including Norman Shutters and Alta Window Fashions.
If you would like more information on the blinds we can install in your home in Reunion, contact US Verticals today. We would be happy to assist you.