Your Source for Vertical Blinds in Reunion, FL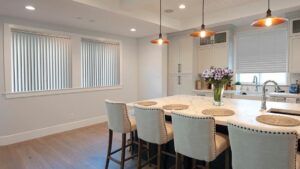 Vertical blinds are a popular window treatment option, especially for expansive spaces like patio doors that could use some shade. At US Verticals, we proudly offer and install vertical window blinds and other window treatments for homeowners in and around Reunion, Florida. If you've been thinking about adding this attractive window blind option to your home, there's no better company to turn to.
Benefits of Vertical Blinds
Vertical blinds are easy to operate, even when they're covering large spaces like your sliding glass patio doors. When closed, they offer great brightness control and privacy, as they block out the harsh sunlight. When opened, they slide to one side, allowing for an unobstructed view out your windows or patio doors. Additionally, because of their vertical design, they don't collect dust the way horizontal blinds would.
Customize Your Window Blinds
When you turn to the friendly professionals at US Verticals, you'll have plenty of options to choose from for your vertical window blinds. During an initial consultation, one of our expert designers can help walk you through your many options for different styles, colors, materials, and more to help you find the perfect customizations for your home.
All of our window blinds come from trusted brands like Norman® that are known for their beautifully crafted products. Whether you want traditional vertical blinds with PVC panes, sliding fabric panels that offer a sleek aesthetic, or SmartDrape shades that combine the look of drapery with the functional benefits of vertical blinds, you can find what you're looking for with US Verticals.
Learn More About Our Vertical Blinds
Are you ready to get started customizing the perfect set of vertical blinds for your Reunion, FL, home? Contact US Verticals today to get in touch with one of our friendly professionals.