Do Plantation Shutters Add Value to Homes?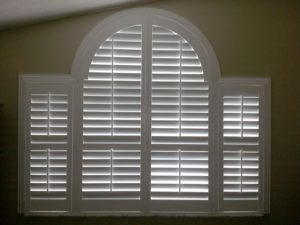 Unlike other window treatments, plantation shutters are custom built for the windows they cover, and, as a result, remain in a home when it's sold. This means that plantation shutters are considered part of a home's sale price and add value to the home. While these shutters generally cost more than other window treatments, they may be more than worth the investment over the long haul. To understand why, just consider some of the major benefits.
Energy Conservation
With wide, heavy louvers, plantation shutters can block heat and sunlight from entering your home, helping you to maintain a comfortable indoor temperature and relieving your HVAC system of some of its workload. This can lead to appreciable savings on your monthly energy bill.
More Light and Privacy Control
You can easily adjust the plantation shutters' louvers for a great view of the outdoors that preserves your privacy. Their easy operation combined with the ability to fold louvered panels fully open or closed also make light control a cinch.
Exceptional Durability and Simple Maintenance
Plantation shutters are a far sturdier window treatment option than blinds. Typically made from hardwood or wood composites, they withstand daily use much better and tend to last a good deal longer. What's more, they are simple to clean, requiring nothing more than an occasional wipe down with a damp cloth.
Stately Appearance
As realtors can tell you, no other window covering attracts buyers the way plantation shutters do. With timeless elegance and old world charm, they are available in different colors, materials, and louver-widths that can deliver a dramatic design statement while making a room more feel warmer and more inviting.
At US Verticals, our skilled team installs a wide selection of plantation shutters from leading manufacturers. Our multitude of options includes painted wood, stained wood, and composite shutters to suit a range of tastes and interior design preferences. Contact us today for more information.