Plantation Shutters Offer Enduring Beauty for Homes in Hunter's Creek, FL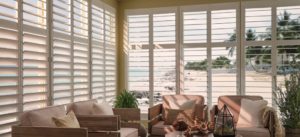 Plantation shutters are a gorgeous window treatment option that originated in the South. They feature an attractive design that can help improve the energy efficiency of your home to keep the interior environment cool even on hot summer days. Interior window shutters offer plenty of brightness control and privacy that can be adjusted to suit your needs with louvers that tilt to the desired angle.
If you're thinking about adding new plantation shutters to your home in Hunter's Creek, Florida, the company to turn to is US Verticals. We've been helping homeowners with their window treatment needs since 1988, and we'd be happy to do the same for you.
Explore Your Options for Interior Window Shutters
At US Verticals, we offer a variety of custom shutters to suit your preferences. You'll be able to choose from:
Wood shutters – Our natural wood shutters offer warm beauty that can elevate your home's interior design.
Composite shutters – Our composite shutters have a moisture-resistant design that's ideal for bathrooms and kitchens.
In addition to choosing the material of your new plantation shutters, you'll also be able to select from a variety of colors, stains, and finishes. What's more, you can further enhance them with motorization for even more convenience at your home. You can program motorized window shutters to open and close on a schedule, and this functionality makes it much easier to open window treatments in hard-to-reach spaces.
No matter how you choose to customize your plantation shutters, you can count on our team to handle the entire installation process with precision and care. Contact US Verticals today to learn more about our selection of custom plantation shutters for homeowners in the Hunter's Creek, FL, area.