How Do Plantation Shutters Work?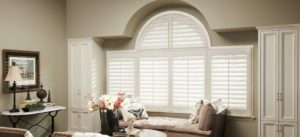 Plantation shutters are among the most popular window treatments on the market, and for good reason! Their claim to fame? In addition to their built-in design, plantation shutters boast incredible insulative properties—making them an attractive and energy-efficient upgrade. Are you interested in this hardwearing window treatment? To help you understand how these shutters work, here's a quick operation overview:
Opening & Closing These Permanent Solutions
Plantation shutters are a unique window treatment option because, unlike most other styles, they're permanently attached to your window openings. While permanent coverings might seem like a scary concept at first, they make for valuable investments that provide excellent privacy and long-lasting performance. Since these are built-in window treatments, one question that's frequently asked by customers is: How do plantation shutters work?
Operating these window coverings is quite simple once you get the hang of it. Most plantation shutters operate on a hinged frame and the panels are held in place by magnets. The frame allows the panel to swing completely open horizontally. Opening and closing multiple shutter panes can be a little trickier, but that's only because one panel will need to close before the other can. This ensures that they seamlessly latch when fully closed. You should hear an audible "snap" when the shutters are closed properly.
Your Source for Wood & Faux Wood Shutters
To ensure you're choosing the best window coverings for your home, needs, and budget, partner with US Verticals. As a window treatment specialist with one of the largest showrooms in Florida, most of which is devoted to plantation shutters, we'll help you navigate through the world of window treatments. You'll benefit from hands-on experience and guidance from a team of devoted associates who will gladly assist you in the customization of your new window coverings. To learn more about our plantation shutters, reach out today!