Outstanding Horizontal Blinds Available to Homeowners in Davenport, FL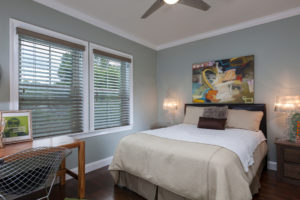 If you own a home in Davenport, Florida, you know the importance of maintaining your privacy and controlling light with effective window treatments. Horizontal blinds can perform both functions, oftentimes for a fraction of the cost of other window treatments. However, poorly constructed horizontal blinds can quickly become a liability as cords tangle and slats crack. Fortunately, resilient, beautiful blinds aren't out of reach. US Verticals stocks a wide range of real wood, faux wood, and aluminum horizontal blinds designed to protect your privacy while complementing your home's décor for years to come.
Horizontal Blinds That Are Built to Last
We know you have many options when it comes to choosing horizontal blinds for your home. This is why we've collected several stylistic varieties and name brands for you to choose from when you purchase your window coverings. We manufacture our own line of faux-wood horizontal blinds right here in Florida. We also install real wood and aluminum blinds produced by some of the leading blind manufacturers in the industry. Whether we've made them ourselves or we're just installing them for you, our horizontal blinds:
Are durable, designed, and constructed to resist cracking, splitting peeling, and warping
Are versatile, as they're custom-made for your home with a variety of paint and stain options
Are easy to maintain, as they can be wiped down with a dry cloth
Get Started Today!
Are you ready to protect your privacy and control the hot Florida sun entering your home with our stylish horizontal blinds? Contact us today to schedule your free in-home consultation or visit our showroom just a short drive from your Davenport, FL, home.