Why You Should Have Shutters Installed on Your Winter Garden, FL, Home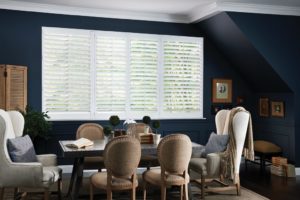 There are countless reasons to have shutters installed on your home. The main and obvious reason is for aesthetics. Plantation shutters are gorgeous, and boost the beauty of homes from the inside out. But in addition to aesthetics:
Shutters Help Provide Energy Savings
Shutters are excellent insulators as well as perfect for deflecting sunlight. Your energy bills will be lower when you have shutters installed. In addition, for skylights or windows that receive full sun, you can get mechanical shutters that open and close automatically to keep the sunshine from heating up your house. In the winter, the shutters provide an added layer of insulation, while during the summer, you can adjust the shutters to deflect the sunshine so the rooms don't heat up.
Plantation Shutters are Inherently Child-Safe
Plantation shutters do not have dangling cords or strings that children can get tangled up in, making them a safer alternative to standard blinds and drapes (although at US Verticals – we offer cordless options for all of our window treatments!). Families with young children don't have to worry about their babies getting strangled in the window coverings when they have shutters installed.
If you would like more information on the child- and pet-friendly window treatments we offer at US Verticals, contact us today. And to view all of our window treatment options in person, stop by our large showroom, conveniently located just outside Winter Garden, FL. One of our associates would be happy to assist you.