Custom Faux-Wood Blinds for Homeowners in Davenport, FL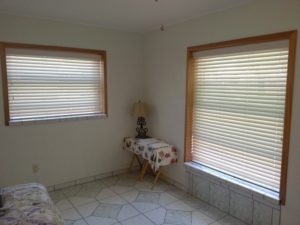 Faux-wood window blinds – you've seen them before. But take a look at a set from US Verticals and you'll realize immediately that our blinds rank well above the ordinary. Compared with products from other manufacturers, our faux-wood options are of a distinctly superior quality. That's because we not only sell and install our blinds, but we also craft them ourselves. This gives us complete creative control over every detail of the window treatments we offer. At US Verticals, we would never sell you or other Davenport residents blinds that we wouldn't use in our own homes.
Whether you want horizontal or vertical styles, our faux-wood blinds replicate the natural warmth of real wood, and for a unique touch to your home, you can select options that look and feel remarkably like driftwood or sand-brushed wood. Opting for our faux-wood blinds also means that:
You can choose from a range of appealing colors to complement your décor
For extra pizazz, you can add decorative tape over the blinds' strings, with options like leopard-print and zebra-print
You'll have cordless options for a cleaner look and improved safety for children and pets
Only factory-trained installers will install your blinds to ensure a precise fit and smooth operation from day one
Order with Confidence
Since our founding 1998, US Verticals has been committed to providing customers total satisfaction with our products and services. To that end, our blinds come with generous warranties to give you peace of mind about your investment. Plus, we offer free service calls on any warranty claims we receive.
For more information about the faux-wood blinds we offer in Davenport, contact US Verticals today.