Types of Window Shades Available for Orlando, FL, Homes & Businesses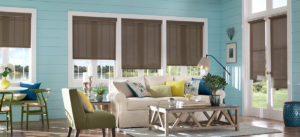 Do your windows feel bare and empty, leaving you vulnerable to bright light, high temperatures, and the peering eyes of your neighbors? Or, maybe you have window treatments, but years of repeated use have left them worn out and damaged. Whatever the case, it sounds like you need new window shades for your Orlando home. US Verticals can help. Since 1988, we have provided residents of Central Florida with beautiful custom window treatments, including a wide variety of fabric shades. We'd be happy to outfit your home with the perfect window shades to match your décor and offer the privacy and light-control you need.
A Wide Selection of Products
Fabric shades provide your windows with a touch of softness, helping to create a cozy atmosphere in any room. Imagine treating your windows to the elegant folds of Roman shades or the stimulating patterning of dual shades. However, these custom window treatments offer more than just a pretty appearance. Some—like roller shades and dual shades—also provide superb light control, while others—like cellular shades—can even offer your living spaces insulation against harsh Floridian summers. We install several popular styles of custom window shades, including:
Roller Shades
Exceptionally easy to operate, roller shades hang in neat fabric panels when closed and roll tightly against the top of the window when opened. They possess a versatile style, with a subtle, tailored profile that suits modern and traditional décor alike. Additionally, the flush and full-frame design of roller shades makes them perfect for homeowners who want to maximize light control and enjoy uninterrupted privacy indoors.
Roman Shades
Boasting an unquestionably elegant appearance, Roman shades have long been prized by homeowners looking to spruce up an otherwise banal room. They come in two distinct styles. Flat Roman shades lie flush against the window when closed and form neat pleats when opened. Hobbled Roman shades, on the other hand, possess gentle folds even when closed, mimicking the classical look of drapery. You can customize both options to suit your style by choosing fabric colors and patterns.
Cellular Shades
Also called honeycomb shades, cellular shades remain a perennially popular choice for window treatments amongst homeowners in Central Florida. Manufacturers bind fabric together to form neat rows of horizontal, honeycomb-shaped cells. When the cells expand as you draw your window shade closed, they trap air and serve as an effective insulator. Choosing double- or triple-layered configurations only enhances these insulating capabilities.
Dual Shades
Possessing a variety of monikers—including zebra shades, transitional shades, dual roller shades, and neolux shades—dual shades consist of a loop of alternately striped sheer and opaque fabric. By adjusting the positioning of the sheer and opaque stripes, you can enjoy total privacy, gently diffused light and views, or some mix of the two. Alternatively, you can raise your dual window shades completely to open your windows for uninterrupted views.
Vertical Shades
Do you need a window treatment for your sliding glass doors or floor-to-ceiling windows? Consider Norman® SmartDrape™ vertical shades. Consisting of individual vanes of soft fabric, these window shades resemble classical drapery, both when they're drawn closed across your windows and when they're stacked neatly to one side. However, you can easily pass through them at any time in order to access your outdoor living areas, making them ideal for those who prize the indoor/outdoor lifestyle.
Whether you opt for the modern look of roller shades or the classic elegance of Roman shades, you'll enjoy complete creative control when it comes to designing your new window treatments. We offer a wide variety of fabric colors, patterns, and even weaves in order to ensure your custom window shades perfectly match your vision.
One-Of-a-Kind Service
When you choose US Verticals to install your window shades, you'll benefit from our extensive experience and superior customer service. From working with you to find your ideal window treatments to installing them, our team will go above and beyond in order to ensure you enjoy a stress-free experience. We always put your needs at the forefront—never trying to upsell expensive products—and our team will make sure to answer any questions you might have about our shades or installation processes. Consequently, you'll always be in control over what happens in your home. This is just part of the reason why we maintain such a sterling reputation amongst Central Florida homeowners.
If you would like additional information on the types of window shades we have available to homeowners, home builders, and interior designers in the Orlando, Florida, area, contact US Verticals today. Also, schedule a trip to our showroom to see all of our window shades in person.