Types of Window Shades Available for Orlando, FL, Homes & Businesses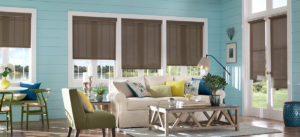 Since 1988, US Verticals has been providing residents of the Orlando, Florida, area with top-of-the-line window shades. Read on to learn more about the different types of window shades we offer.
Roller Shades
Roller shades are exceptionally easy to operate since all you need to do raise and lower from the bottom rail to adjust the light and privacy. These types of shades also offer clean, simple lines, and are modern yet classic in style, making them a great addition for any home and any room.
Roman Shades
These types of window shades have a more decorative, elegant appearance than most type types of shades. There are two primary types: flat, also called classic, and hobbled, also called looped. A flat roman shade is characterized by having a fabric panel that lies flat against the window when fully extended and forms neat stacked folds when raised. On the other hand, a hobbled roman shade retains its overlapping folds, or loops, when fully extended. This creates the look of drapery.
Cellular Shades
Cellular shades are a popular type of window covering also called honeycomb shades. With this shade, the fabric is bonded together to form honeycomb shaped cells. They have a single, double, or triple layered design that traps the air between the layers of the shade in individual cells to provide insulation that also creates a distinct and eye-catching look.
Dual Shades
Known by many names, including zebra shades, transitional shades, dual rollers, and neo-lux shades, dual shades provide a modern look by offering both sheer and privacy fabrics in the same shade to create an attractive, zebra-like pattern.
If you would like additional information on the types of window shades we have available to homeowners, home builders, and interior designers in the Orlando, Florida, area, contact US Verticals today. Also, feel free to stop by our showroom to see all of our window shades in person.