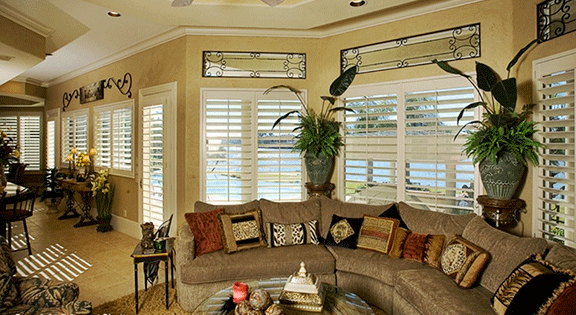 O'Hair Custom Interior Shutters
Choosing the right Plantation Shutter is even more important for homeowners with spectacular views of their surroundings than for their less fortunate counterparts. The logic behind this is simple – A Plantation Shutter should be beautiful when you want to see it, and be unobtrusive when you want to look through it! No shutter on the market today can boast this more than O'Hair Shutters
Considering that Florida is a state famous for its natural splendor, it comes as no surprise that O'Hair Shutters are rapidly becoming a favorite choice for people looking for a modern shutter with awesome views. O'Hair Shutters boast some of the largest louver spacing in the industry. They are also one of the strongest shutters that we've ever had the fortune to work with, and a warranty no other Shutter company can boast. Given these and all of their other merits, it is no surprise that we highly recommend O'Hair Custom Interior Shutters for our clients on the coast with beachfront properties.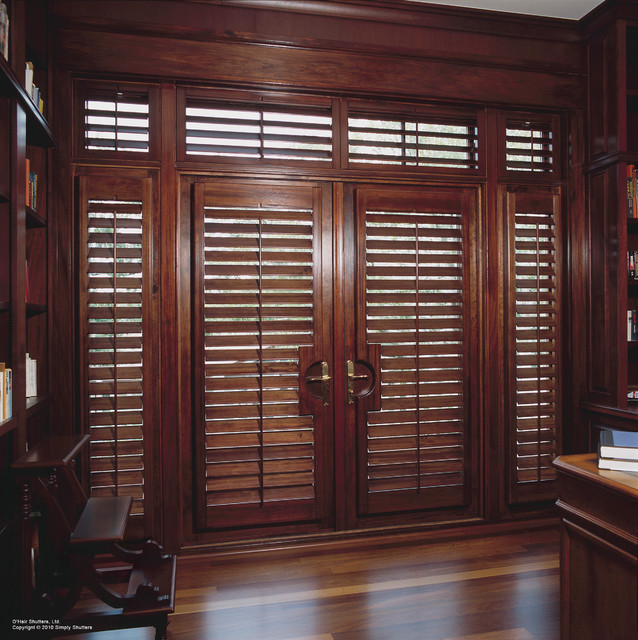 Benefits to Using O'Hair Custom Interior Shutters
Each of these benefits make a convincing case for using O'Hair Shutters. Combined, the homeowner's choice of Plantation Shutters becomes much simpler:
First and foremost, O'Hair Shutters are a beautiful shutter that can be fully customized to give either an incredibly modern appearance with the use of custom paints and straight louver design, or a more traditional look with hand rubbed custom stains and a sandbrushed finish.
O'Hair Shutters are also extremely practical. Their Tilt-Rod is the strongest in the industry, and closes the louvers much tighter than many other brands. They also have the largest selection of frames in the industry to ensure that every shutter is absolutely perfect for your home specifically.
Customization is one of the most important reasons that O'Hair Shutters are so flexible. In brief, the manufacturer exercises both care and consideration to ensure that each set of shutters is made to the customer's color specifications with the use of a spectrophotometer. O'Hair doesn't just give you a small selection of paints and stains to choose from. They give you the flexibility of the entire color wheel of paints and stains. There are no "Stock Colors" when it comes to an O'Hair Shutter!
Of particular note is the Horizon Tilt option, which allows the louvers to open without the presence of a tilt rod in the center. Combined with the choice of the huge louvers that are a distinct characteristic of O'Hair Shutters, this means that these shutters can provide an unrivaled amount of light and visibilty when opened. In this manner, O'Hair Shutters can provide homeowners with the best view of their beautiful surroundings without exposing their homes in the process. Better still, the option for twin tilt rods per panel can provide homeowners with maximum privacy should there be the need.
O'Hair Shutters are made using American hardwood, which is both strong enough and tough enough to stand the test of time. Their hardwood comes from foresters that operate in a sustainable manner, combining with O'Hair's wood waste reduction, low-emissions painting, and like-minded measures to result in an eco-conscious product.
O'Hair also offers one of the only Fully-Transferrable Warranties in the Shutter Industry today. Not only does this provide incentive for them to make the strongest wood shutter on the market, but also provides the homeowner with the ultimate peace of mind that the shutters will last as long as the home itself!
In short, O'Hair Shutters make an excellent investment for the home. Their incredible appeal combines with their superb functionality to make your not only more beautiful, but also more valuable.
Why Choose US Verticals
We believe that homeowners in search of the right window treatments should come to us, because we have a time honored tradition of offering our clients the best products and the best service. We are extremely proud of the fact that we have been in business since 1988, and will do everything to make sure that we always remain one of the best Window Treatment Companies in the country.
Choosing the right Window Treatment company is important, because window treatments come in such a variety of possibilities, that even the small choices can make a world of difference for a homeowner. Since we are Florida residents ourselves, we understand local conditions, and can help provide solutions to many different concerns that are specific to our region. We have a long-standing record of customer satifaction when it comes to matching our valued customers with the window treatments best-suited to their circumstances.
Of course, we intend to see our valued customers through the purchasing process from start to finish. This means that our assistance is not limited to providing them with the products that we trust, but extends to ensuring the absolute best installation of their window treatments. Without exception, our installers are all highly experienced and factory trained in the products that we offer. Our clients can always count on us to get the job done in an efficient and effective manner with minimal disruption to their daily lives.
O'Hair Shutters offer a rigorous vetting process that ensures that any dealer offering their products will offer the best design and installation experience possible. We are so proud to have been offered the opportunity to sell their incredible shutters.
Contact Us
Think that O'Hair Custom Shutters are the right fit for your home? Would you like to see them in person? Give us a call at 407-847-5777 or use the form to your right to set up your free estimate today!