How to Choose the Perfect Window Shades for Your Room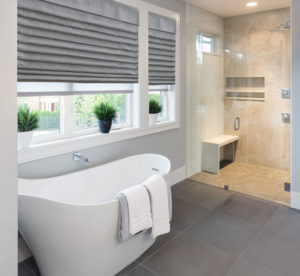 Window shades provide your interior with a finishing touch, giving your room a sense of completeness and tying your décor together. They also fill an important role when it comes to providing privacy and light control. Because of this, selecting the right window treatments for your home can feel like a daunting task. There's no need to fret, though. In order to choose the perfect window shades for your room, consider:
Light Control
Sheer or semi-sheer cellular or Roman window shades diffuse the light streaming through your windows. Instead of allowing hot, harsh sunlight to bleach your carpets and furniture, sheer shades will fill your room with a soft, natural glow. On the other hand, dual shades, with their alternating solid and sheer stripes, provide you with more control over the light. By adjusting these window treatments, you can switch between a sheer window covering and an opaque one. If you don't want a single ray of sunshine disturbing your sleep, consider blackout roller or cellular shades.
Privacy
While everyone can appreciate a beautiful view, sometimes you need to know that your windows won't put the inside of your home on full display. As a general rule of thumb, heavier window treatments are better at deflecting prying eyes when closed. This makes blackout roller shades an excellent choice for privacy-conscious homeowners. The top-down, bottom-up operation of cellular window shades is also appealing, as it allows light to filter into your room while obscuring the bulk of the action happening therein.
Style
Of course, functionality means little if your window shades don't complement your décor. Of all window treatments, roller shades and cellular shades tend to offer the most adaptability. Depending on the fabric you select and the drapery you pair them with, these shades can suit almost any style. Dual shades possess a more sleek profile and lend themselves to clean-cut or modern décor. By contrast, the pleated fabric of Roman shades embodies elegance and traditionalism, most easily complementing classic styles.
Whatever you require from your window treatments, US Verticals can install fabric shades for you. Contact us today to schedule a complimentary, in-home consultation. Or, visit our Kissimmee showroom to see our window shades for yourself.