Low-Maintenance Composite Shutters for Homeowners in Orlando, FL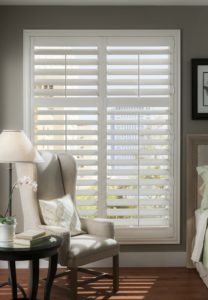 Are you trying to decide between wood and composite plantation shutters? You're not alone; most homeowners come to the same crossroad when shopping for window treatments. While both materials offer incredible aesthetic appeal and long-lasting functionality, only one is low-maintenance—composite shutters—and the best can be found at US Verticals. We are a window treatment specialist that serves homeowners throughout Orlando, Florida, offering one of the largest assortments of plantation shutters in the region.
Our Custom Composite Shutters
As the local window treatment experts, our selection is expansive and includes a wide range of plantation shutters from industry leader Norman®. These award-winning window coverings include composite:
Woodbury Shutters®
Woodbury plantation shutters are engineered with a thermoplastic polymer composite, a material that boasts exceptional durability and is completely waterproof. This makes them a wonderful window treatment option for rooms that see a lot of water and humidity (bathrooms, kitchens, and steam rooms).
Woodlore Shutters®
While these best-selling plantation shutters are crafted to mimic natural woodgrains, they require minimal maintenance. Why? Their composite build is durable and is finished with a water-resistant coating that helps prevent warping and other signs of age.
Schedule a Consultation With Us
Are you ready to enhance your Orlando, FL, home with custom composite shutters? If so, reach out to US Verticals today! During your consultation, our experts will match you with the perfect type of shutter for your needs and begin to help you personalize the final design.