Your Source for Custom Roller Shades in Poinciana, FL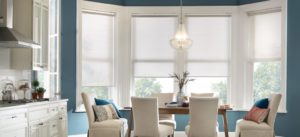 Are you searching for roller shades for your home in Poinciana, Florida? If so, the company to turn to is US Verticals. We've been helping homeowners throughout the region with their window treatment needs since 1988, and we'd be happy to do the same for you. We offer top-of-the-line roller shades from trusted brands and professional installation services to help outfit your home with the window treatments that perfectly suit your needs.
Why Choose Roller Shades for Your Home
Roller shades feature a simple design that works with just about any interior décor. These window shades easily roll up out of sight when you want an unobstructed view and roll down to provide the level of brightness control you desire. The roller shades we offer come in more than 500 options, from delicate lace and soft pleats to natural weaves and solar screens. Additionally, roller shades are highly customizable that can easily be motorized if you'd like to control them with a remote control, wall switch, or timer.
Professionally Installed Window Shades
When you choose US Verticals for your new roller shades, you'll also benefit from our professional installation services. Our highly experienced installers will attend to every detail, providing a level of craftsmanship that ensures your new window shades will look great and function flawlessly for years to come.
If you'd like to start exploring the many options available for your new roller shades, contact US Verticals today. We are your source for window shades in Poinciana, FL, and all surrounding communities.