Can Plantation Shutters Make Your Home More Energy Efficient?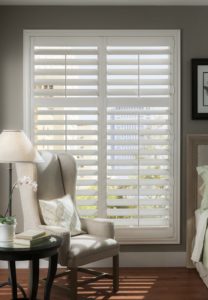 You shouldn't feel summer heat radiating from your closed windows, nor should you feel winter's bite. Unfortunately, it's a common occurrence that most homeowners deal with seasonally. The best solution: Install window treatments! A lot of people don't realize that, when closed, window coverings can improve the energy efficiency of their homes—keeping the interior at a comfortable temperature all year long. So, what type of window treatment is the most energy efficient? Plantation shutters are by far the most energy-efficient option on the market, and here's why:
They're Insulated
The inherent make, model, and material of plantation shutters makes them some of the best window treatments to keep heat and cold out of your home. Most plantation shutters are crafted from thick materials that are well insulated and made to last. The slatted and seamless construction almost acts like a wall when sealed and shut, keeping heat transfer via your windows at bay.
They Reduce Airflow
Plantation shutters are considered permanent fixtures because they are installed seamlessly against your windows' frames. This design not only creates an aesthetically pleasing finish, but it also helps prevent inside air from escaping and outside air from entering your home.
They Provide Shade
Even when opened, plantation shutters provide you complete light and privacy control. This dual benefit can help you shade your home in the summer and filter light indoors during the winter, allowing you to manage your indoor temperature without needing to constantly adjust the thermostat.
All-in-all, plantation shutters have the potential to make your home more energy efficient and are a valuable investment for any residence. If you're interested in learning more about the perks of these window coverings for your home, contact the pros at US Verticals today!