Roller Shades Offer Minimalist Beauty to Homes in Altamonte Springs, FL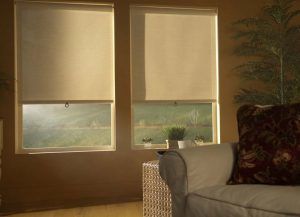 US Verticals is pleased to be your source for roller shades in Altamonte Springs, Florida. Whether you've just moved into a new home or are looking to update your home's interior design, a new set of roller shades is a great way to transform your home to suit your preferences. And, at US Verticals, we offer a wide selection of highly customizable roller shades and other window treatments so that you can find the options that are just right for your home.
Benefits of Roller Shades
Roller shades feature a simple, yet highly functional, design. When closed, they lay flat in a single layer to block out the sunlight and provide you with privacy inside your home. When opened, they roll up at the top of the window opening so that they're completely out of your way. To open and close these window shades, all you have to do is pull them down. These pull-down shades don't require additional cords that can easily tangle and pose a hazard to small children as well. All in all, roller shades are easy to use, highly functional, and won't steal attention away from the rest of your home's interior design.
Offering Completely Custom Options
When you turn to US Verticals for your new roller shades, you'll be able to choose from a wide range of colors, patterns, and other design elements to suit your preferences. We can help you find the options that are just right for you and then install your new window roller shades with precision and care. We'll work diligently to ensure the stunning finished results you desire for your home.
Find Your New Roller Shades
Contact US Verticals today to learn more about our selection of roller shades and to get started finding the perfect new set of window treatments for your home. We proudly serve homeowners in and around Altamonte Springs, FL.