Traditionally Crafted Wood Shutters for Belle Isle, FL, Homeowners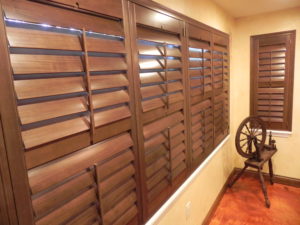 While soft window treatments—curtains, drapes, etc.—offer a unique touch of elegance to the windows they frame, when investing in hard window coverings, wood plantation shutters are as traditional as you can get. The texture of natural woodgrains and the unique look of wood whorls are extremely difficult to replicate with alternative, faux wood materials. That said, to truly benefit from all that wood shutters have to offer aesthetically and functionally, you must partner with a specialist. For Belle Isle, Florida, homeowners, US Verticals is that expert.
Custom Plantation Shutters
US Verticals is a window treatment specialist with a knack for plantation shutters. Our collection is unmatched and includes both faux wood and real wood shutters from the award-winning Norman® line, which includes:
Painted Wood Shutters
Natural wood, even when painted, has a unique texture. The painted wood shutters we offer are ideal in homes with cottagey interiors and can be customized in your choice of paint color (though, white is a popular option).
Stained Wood Shutters
To showcase the natural appeal of wood whorls in your shutters, opt for our stained collection.
Customized to suit your preferences, our wood shutters boast the very best craftsmanship and are meant to provide lasting performance. In fact, because our plantation shutters are considered permanent upgrades, they can even help increase your home's value.
Contact us today to learn more about our window treatment design and installation process. US Verticals proudly serves homeowners throughout Belle Isle, FL, and is home to just about every type of window treatment on the market—including wood plantation shutters.