What Rooms Are Best for Wooden Shutters?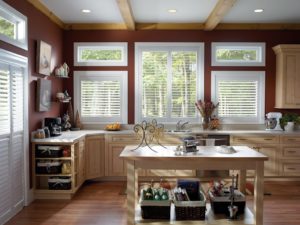 Wooden shutters are arguably one of the more attractive window treatments for homes, but are they suitable for every room? As some interior designers may tell you, that depends on their features. First, all shutters are basically designed the same, with hinged, louvered panels that are mounted inside a window (outside for exterior shutters) and can be closed for light and privacy control. Traditional style shutters feature small louvers, usually about 11/4 inches wide. The narrow space between the louvers makes traditional shutters a popular choice for smaller windows.
By contrast, plantation shutters feature wide louvers and can add design appeal to virtually any interior space. The wider gap between their louvers also offers more expansive views of the outdoors. The inherent elegance of plantation shutters make them highly desirable, and unlike draperies or other window coverings, they usually remain in a home when it's sold. While wooden plantation shutters look spectacular in any room, they are not ideal for the steamy, wet environments of bathrooms or steam rooms. And this is one reason why some designers advise homeowners to take into account the features of a wooden shutter when considering it for a specific room.
Thankfully, you have options. Nowadays, some plantation shutters are built from vinyl or composite materials that create both strength and water-resistance. You may be hard pressed to find traditional composite shutters, however, since traditional shutters are rarely installed nowadays with interior designs trending toward well-lit spaces and wide-open views.
Explore Your Options at US Verticals
US Verticals carries a remarkable selection of plantation shutters in a variety of materials. If you a need water-resistant shutter, we offer a line of outstanding options from the Woodbury Shutters® and Woodlore Shutters®. If you prefer high-end wooden shutters with a beautiful stained finish to match your décor, consider our gorgeous options from Sussex Shutters®. Contact us to learn more, or visit our sprawling showroom in Kissimmee today and start browsing.