Custom Window Blinds for Your Home in Haines City, FL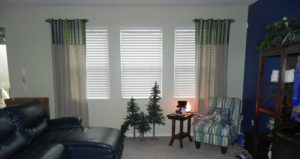 Did you know that some of the finest window blinds and installation services can be found right here in Florida? But don't just take our word for it, here at US Verticals, consider the awards we've received over the years: A Best of Houzz Award for Service and an A+ rating from the Better Business Bureau. Since our founding in 1988, our Kissimmee-based company has helped an untold number of Haines City customers enhance the appearance and increase the value of their homes with premium-quality blinds that feature an array of customization options.
Get the Blinds You Need
We offer blinds in vertical and horizontal styles, and, for convenience and child safety, both types can be motorized. Whichever type you seek, you're sure to find something that suits your needs and your personal aesthetic because we offer an array of features and options, such as:
Different types of durable materials, including faux-wood, solid hardwood, and vinyl
A wide range of appealing colors to complement your home's décor
A variety of finish options, including smooth, textured, painted, or stained
Unsurpassed light filtration and heat control
No matter which options you choose, whether it's vertical blinds that we craft ourselves or horizontal blinds we offer from top manufacturers like Norman and Coulisse, we will install them according to the highest industry standards. That's because, we rely only on our trained and certified employees, not subcontractors, which gives us complete control over the installation process. Further, you can expect nothing less than unfailing courtesy and professionalism from our team, and any questions you have about our blinds, they will be happy to answer.
Contact US Verticals today for more information about the lovely selection of window blinds, and let us schedule a free estimate at your home in Haines City.