Top-of-the-Line Window Blinds Can Beautify Your Home or Offices in Kissimmee, FL, or Nearby City in the Greater Orlando Area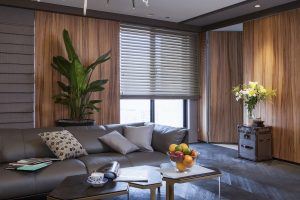 Window blinds from US Verticals allow homeowners and business owners in the Kissimmee, Florida, and greater Orlando area to enjoy more than just privacy and protection from the sun's heat and UV radiation. Thanks to our plethora of customization options – many of which are not available anywhere else – our customers can design their blinds to perfectly match their aesthetic preferences and interior color schemes. Our factory-trained, professional installers will also make sure that your window blinds are properly installed and look fantastic, even if the windows themselves are uneven.
We offer customers in the greater Orlando area two types of window blinds – horizontal and vertical. We manufacture our own vertical blinds and faux wood horizontal blinds, plus we carry horizontal blinds manufactured by industry leaders Alta Window Fashions and Norman®. Here's a closer look at all the options available to you for both our horizontal and vertical blinds:
Horizontal window blinds – With this style, you can choose from either faux wood blinds, stained or painted wood blinds, or mini blinds. Wood blinds allow our customers to enhance the aesthetics of their rooms with the beautiful look of natural wood. With our faux wood blinds, you can also enjoy the classic look of wood, as well as easy maintenance and cleaning. They are available in 2- and 2.5-inch slats, as well.
Vertical window blinds – These blinds are available in textured and smooth vinyl, as well as various fabrics. All are easy to operate with a standard cord or safety wand. With the vinyl blinds, maintenance will never be a hassle because cleaning is easy. Different materials can be chosen for fabric blinds to create a gentle ambiance.
In our showroom in Kissimmee, FL, you'll have the opportunity to see and test out our competitively priced window blinds. These include our child-safe cordless blinds and our motorized blinds that simplify the opening, closing, and tilting of blinds to a push of a button. You can count on us for world-class customer service, as we'll go above and beyond to meet your unique needs. What's more, all our blinds are covered by fantastic manufacturer warranties, so you can have peace of mind about your investment.
If you would like stylish window blinds from US Verticals to shade and liven up rooms at your home or business location in Kissimmee, FL, or elsewhere in the greater Orlando area, give us a call today.