US Verticals Offers Premium Venetian Blinds to Residents of Davenport, FL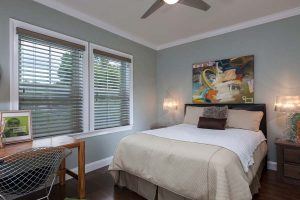 If you've always wanted Venetian blinds for your Davenport home, but have never trusted the quality of the products your local home improvement store carries, you'll be pleased to know that you have far better options. At US Verticals, we offer high-end window treatments in a vast array of styles and designs, and Venetian blinds – also known as horizontal blinds – are among our most popular products. Since 1988, we have been installing Venetian blinds to fulfill our customers' home improvement dreams, and our A+ rating from the Better Business Bureau testifies to our stellar track record.
A Wealth of Choices
We carry a range of horizontal blinds to suit your home's décor and your personal taste. And, with customization options, such as cordless blinds for child safety, you can get exactly the window treatment you envision for your home. We offer a free consultation during which one of our knowledgeable associates will review all of your options, which include stained wood blinds, painted wood blinds, mini blinds, faux-wood blinds, and sand-brushed blinds that mimic driftwood.
All of our horizontal blinds are from top manufacturers, including:
Norman
Alta Window Fashions
Horizons Window Fashions
Coulisse
US Verticals
Yes, you read that last one right. Here at US Verticals, we proudly craft our own faux-wood horizontal blinds, and offer them in 2-inch and 2.5-inch options. We not only make and offer top-quality blinds, but we also install them, and to ensure high-quality service, we never subcontract out our work. Our team of installers are highly trained and trusted company employees who will install your blinds with expert precision.
Contact US Verticals today for more information, and start the process of acquiring the Venetian blinds you've always wanted for your Davenport home.