What Are the Best Types of Plantation Shutters?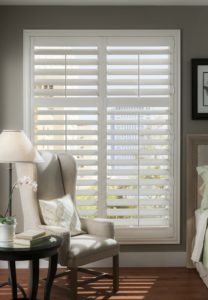 Plantation shutters remain a favorite window treatment option by interior designers and homeowners alike, thanks to their timeless design. As you review shutter options, however, you might be surprised to find that plantation shutters come in many different shapes, styles, and materials. To help streamline your search, here are some of the best types of residential plantation shutters:
Faux Wood Shutters
Composite plantation shutters are crafted from engineered wood, earning them the popular nickname faux wood shutters. Composite is a cost-effective alternative to hardwood, a perk that has made it one of the best plantation shutter materials on the market. These shutters are also extremely durable, easy to customize, low-maintenance, and resistant to humidity.
Vinyl Shutters
Vinyl is among the most affordable plantation shutter materials. Vinyl plantation shutters are ideal in high-moisture areas of your home, like the bathroom or basement. If you have the option to be picky, try investing in a vinyl composite plantation shutter—as these are typically better engineered and designed to last for decades.
Hardwood
Wood, or hardwood, plantation shutters are among the most recognizable. This traditional shutter design is strong, lightweight, and can be painted or stained in a wide range of colors. As beautiful as they are, however, it's important to recognize that they typically require more maintenance—especially in moist areas of your home. That said, when properly maintained, they will last a lifetime.
For all things related to plantation shutters, turn to US Verticals. Our showroom, which is one of the biggest in Florida, has an incredible collection of plantation shutters in every shape, style, and material. Contact us today for more information.