Custom Wood Shutters Available to Haines City, FL, Homeowners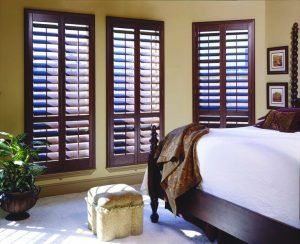 There is something inherently elegant about wood shutters; it's a style that can't be easily duplicated. Of course, to truly appreciate all that wood shutters offer, they need to be sourced from an expert. For homeowners in Haines City, Florida, that plantation shutter specialist is US Verticals. Founded in 1988, we only offer products from industry-leading manufacturers—helping you customize them to best suit your unique aesthetic and functional preferences.
Wood Plantation Shutters
Plantation shutters are an incredible investment, offering long-lasting benefits. Because they are considered a permanent upgrade, they can even help increase your home's value. When looking at wood shutters for your residence, however, you must look for a high-quality product that's expertly crafted from hardwoods. That's why US Verticals sources wood plantation shutters from the award-winning Norman® line.
Stained Wood Shutters
If your goal is to preserve or showcase the natural wood of your new shutters, stains are the way to go. The process will accentuate the richness of the wood and work to highlight unique whorls in the grain.
Painted Wood Shutters
If you're more concerned about the texture of your wood shutters, painted wood offers the perfect solution. While you won't be able to see the natural wood color, painted plantation shutters still showcase the unique texture of wood, and that's something that very few materials can replicate.
To learn more about our plantation shutters, reach out today. US Verticals offers a wide range of shutter materials, including wood, so you're sure to find the perfect fit for your Haines City, FL, home.