Plantation Shutters Transform the Appearance of Your Bell Isle, FL, Home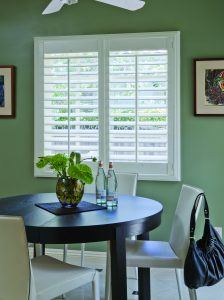 Plantation shutters are among the most desirable window treatments. With wide louvers that can be tilted at various angles and hinges that allow them to be opened fully, these shutters offer exceptional light and privacy control. What sets them apart as a window covering is their stately aesthetic. Do you have a drab den that you'd like to spruce up? By having plantation shutters installed, you'll not only give the room a distinctively upscale look, but you'll also heighten your home's curb appeal. This partly explains why many newly constructed Bell Isle homes come with plantation shutters already installed. Developers and real estate agents understand nothing bespeaks class like plantation shutters. What's more, they add value, as they usually remain in the home when it's sold and are considered part of the sale price.
US Verticals has been the area's top source for high-end window treatments since 1988, and our plantation shutters have become one of our most popular products. There are a number of reasons why.
We Offer Several Material Options
Our shutters are available in numerous materials, from luxurious teak wood to thermoplastic polymer to traditional painted wood. And because we source our shutters from top manufacturers, all of our material options boast confidence-inspiring durability.
You Can Customize to Your Heart's Content
Want louvers a little narrower than usual? We can give you that. How about a rich, dark patina? We can do that, too. In short, you'll have options that can blend with your home's interior, whether it's suffused with old-world charm or displays a modern aesthetic.
Easy Maintenance
All it takes to keep your plantation shutters looking like new is an occasional wipe-down with a damp cloth. What could be easier than that?
To learn more about the selection of plantation shutters we offer in Bell Isle, contact us today. We can schedule an at-home consultation that includes a free estimate.