Are You Interested in Roller Shades for Your Home in Orlando, FL?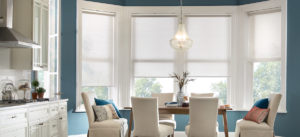 Roller shades, like their name suggests, are window shades that roll up into a tab and operated by raising and lowering the bottom rail. These types of shades offer a simple, classic look and can be customized to provide the exact amount of light control and privacy you wish to receive with these shades by utilizing different fabrics. For example, if you would like just a little bit of privacy and light control, consider using a sheer fabric. However, if you'd like to put this shade in a bedroom, a room where most people like to have more privacy and light control, consider using a heavier fabric.
When you would like to choose your roller shades among a gorgeous selection and receive premium-quality, customer-centric service, look no further than US Verticals.
Why Choose US Verticals When You Need Roller Shades?
We manufacturer our own vertical and horizontal blinds, and we our roller shades and other window treatment products we offer are manufactured from quality, name-brands like Alta Window Fashions and Norman.
We have one of the largest window treatment showrooms in the state of Florida, which is located right in the Orlando, FL, area, making us accessible to homeowners and business owners throughout the Central Florida region.
We've been in business since 1988, so you can rest assured we're not a fly-by-night operation and we have the experience needed to provide top-of-the-line service.
Not only are our products top-quality, but are installations are, too. We strictly use our own highly trained and experienced installers, never subcontractors.
For more information on receiving roller shades from US Verticals, contact us today and feel free to stop by our expensive showroom to visit us in person.