Are You Interested in Roller Shades for Your Home in Orlando, FL?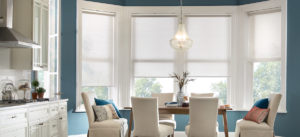 If you want tailored, adaptable window treatments for your home in the Orlando, Florida, area, consider roller shades. You can operate these window shades by raising and lowering the bottom rail, and they roll up into a subtle tube when fully opened for a neat look. Roller shades embody a simple, classic look that you can adapt to almost any décor by utilizing different fabrics. For this reason, they remain a perennially popular choice among Orlando-area homeowners like you.
At US Verticals, we install beautiful roller shades created by reliable manufacturers like Norman®, Alta Window Fashions, Coulisse, and Horizons Window Fashions. By combining the exceptional craftsmanship these window shades possess with our own high-end installation services, we can provide the best possible window treatments for your Orlando-area home.
A Shade Suiting Every Style
One of the reasons that roller shades remain a popular choice for homeowners is their customizability. With over 80 fabric choices featuring a variety of patterns and textures, we can create window shades that embody traditional elegance, sleek modernity, or rich texture.
Of course, your roller shades should do more than just look pretty. They need to provide your home with the ideal amount of privacy and light control. Fortunately, our fabric choices allow you to create window shades that can:
Diffuse light – Choosing sheer or semi-sheer fabric provides your interior with limited privacy while still permitting light to filter through the window. These roller shades, however, diffuse light in order to create a soft, airy atmosphere in your room.
Provide privacy – Heavier fabrics block more of the light that passes through your windows for greater privacy. They also make a statement when closed, showcasing bold colors, playful patterns, or natural fiber weaves.
Block light – In the bedroom, the last thing you want is for the rising sun to wake you up early on the weekend. In this room, consider roller shades with blackout liners sewn to their backs for ultimate light control.
Whatever you're looking for from your window shades, US Verticals can help.
Orlando's Premier Roller Shades Installer
Sourcing high-end window shades is only part of what sets US Verticals apart from other window treatment companies in the Orlando area. We also strive to provide homeowners with high-end, customer-centric service. What does that mean?
Since we opened our doors in 1988, we have committed to providing our customers with a one-of-a-kind experience. We'll clean hard-to-reach windows before installing your roller shades, and our technicians will take the time to answer any questions you might have regarding our products and processes.
We use in-house, factory-trained technicians to install our roller shades, never subcontractors. This ensures that your window shades, once installed, will beautifully complement your windows for years to come.
We maintain one of the largest window treatment showrooms in the Orlando area. No matter where in central Florida you live, we're only a short drive away. Of course, we would also be happy to visit your home for a complimentary consultation, bringing samples of the materials used to create our roller shades.
Would you like to learn more about installing roller shades in your Orlando, FL, home? Contact US Verticals today. Or, visit our expansive showroom to see our collection of window shades for yourself.