Plantation Shutters From Professionals in Orlando, FL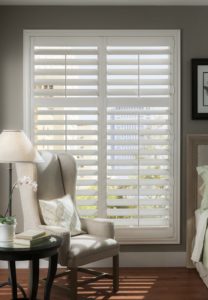 Whether your interiors embody traditional charm or embrace clean, contemporary lines, plantation shutters can provide your room with a touch of elegance and completeness. After all, few other window treatments boast a design custom-tailored that seamlessly complements your windows. This is one of the reasons why so many homeowners in Orlando, Florida, find window shutters to be the perfect addition to their décor.
US Verticals installs plantation shutters for homeowners and home builders across Florida. In fact, we have made it our goal to only install window shutters that we would feel comfortable putting in our own homes. This is why we partner with industry leaders like Norman® and Eclipse® to provide you with the most durable and stylish wood, composite, and faux wood shutters available. We strive to go above and beyond for our customers, and we will provide you with a level of service that is unmatched in the industry.
A Window Treatment With All of the Bells & Whistles
While plantation shutters require a larger initial investment than many of their counterparts, they also come with a plethora of unique benefits. This makes shutters excellent if you'd like your window treatments to provide you with good value. Window shutters boast incredible:
Precision – While you can always swing your plantation shutters away from your windows to flood your room with light and open it to the outside world, you can also precisely tilt your shutter louvers in order to enjoy the perfect amount of illumination while maintaining your privacy.
Longevity – Whether crafted from synthetic materials or real hardwood, window shutters possess a weighty construction. This makes them incredibly durable and enables them to maintain their functionality and stunning appearance even after years of use.
Insulation – The same solid construction that lends plantation shutters their longevity also makes them terrific insulators. Closing your shutters during the summer keeps light and heat from entering your home and helps you conserve energy. During cooler months, wood shutters form a thermal barrier over your windows that protects your interiors from the cold outside air.
Plantation Shutters That Are Manufactured for Success
Not all window shutters are created equal. In order to ensure that we find the perfect plantation shutters that both suit your unique style and provide you with optimal benefits, we install a variety of shutter types. These include:
Stained wood shutters – Manufactured by Norman®, Normandy® shutters are crafted from premium hardwood and can be stained in a variety of gorgeous colors.
Painted wood shutters – If you would like to add a pop of color to your home, we offer high-end wood shutters painted in a variety of eye-catching colors.
Wood Composite Shutters – Norman's Woodlore® shutters are not only gorgeous. They're also specifically engineered for durability, so they'll maintain their beauty and functionality for years.
Faux wood shutters – If you need your window shutters to stand up to the kind of humid or hostile environment often found in bathrooms, laundry rooms, and kitchens, then Eclipse® Shutters creates a product that marries beauty and durability.
If you would like to see our plantation shutters in person, stop by our expansive showroom just outside of Orlando, FL. Or, contact us to schedule a complimentary consultation in the comfort of your home.