Durable and Attractive Wood Shutters for Your Home in Kissimmee, FL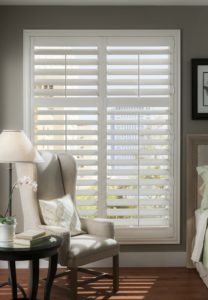 Wood shutters offer timeless beauty for homes in the Kissimmee, Florida, area. The warmth and aesthetics of natural wood paired with the enduring style of plantation shutters can elevate the style of any room in your home. And no one knows this better than US Verticals. We are proud to be your local source for top-of-the-line window shutters and other great window treatments in the greater Kissimmee, FL, area.
Benefits of Wood Shutters
Wood shutters are a popular option among homeowners because of the numerous benefits they offer. All of our wood shutters are:
Durable – Wood is an exceptionally durable material that will stand the test of time in your home, providing years of beauty and functionality.
Attractive – We offer painted and stained wood shutters to suit your aesthetic preferences and complement your home's interior design.
Energy efficient – Wood is an energy-efficient material that can help prevent heat from entering your home when your window blinds are closed. This helps contribute to a cooler and more comfortable indoor temperature.
Professional Installation of Your Window Shutters
US Verticals is here to help you with your window treatment needs from start to finish. No matter how you choose to customize your wood shutters, you can rely on us to ensure they're properly fitted and installed in your home.
To schedule a consultation with US Verticals, contact us today. We're proud to offer wood shutters and many other window treatments to homeowners in Kissimmee, FL, and throughout the area.