Exterior Roller Shades to Enhance Your Outdoor Space in the Greater Orlando, FL, Area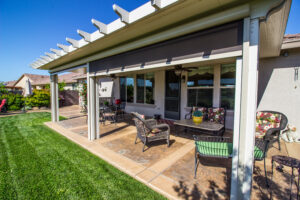 Exterior roller shades are a wise investment for homeowners in Kissimmee, Florida, who want to enhance their outdoor living space. Here in Florida, we're all too familiar with the heat and humidity that can quickly make it uncomfortable to spend time outdoors.
Fortunately, a set of exterior roller shades from US Verticals can help provide the relief you're looking for so that you can enjoy a more comfortable outdoor space. You can rely on US Verticals to provide you with top-of-the-line window treatments, shade solutions, and more to put the finishing touches on each part of your Central Florida home.
Exterior Solar Shades Add Shade & Privacy
Exterior roller shades allow you to maintain your view in your outdoor living space while cutting down on glare from the sun. Our solar shades offer:
Shade – Our exterior roller shades will provide relief from the hot sun so that you can enjoy a cooler and more comfortable outdoor living space.
Privacy – Extending your exterior roller shades can provide the privacy you desire to enjoy a more secluded and pleasant space.
Ambiance – A new set of exterior roller shades can set the tone for your outdoor living area, contributing to the welcoming and comfortable environment you desire. And with plenty of colors and styles to choose from, you're bound to find a set of solar shades that suit your needs.
If you're interested in having exterior roller shades installed on your property, contact US Verticals today. We serve homeowners in St. Cloud, Winter Garden, Kissimmee, and nearby cities in the greater Orlando, FL, area.