Improve the Elegance of Your Winter Garden, FL, Home With Wood Shutters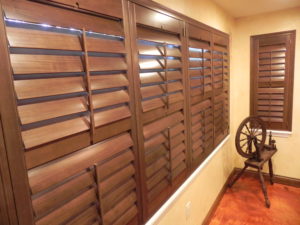 The process of transforming a cookie-cutter house into a unique home doesn't have to be an overwhelming one! One of the best ways to magnify your vision and improve the look and overall feel of your residence is to install wood shutters. These window treatments are the epitome of luxury—creating a warm, inviting atmosphere that complements virtually any aesthetic or functional preference. For homeowners in Winter Garden, Florida, US Verticals is the company to partner with for top-of-the-line wood shutters that check all of the boxes. We boast decades of industry experience and offer wood plantation shutters from a variety of industry-leading manufacturers, including Norman Shutters®.
Plantation Shutters That Improve Home Beauty & Energy Efficiency
If you're looking for a permanent window treatment that not only provides an exquisite "wow" factor but also amazing light control and insulation, our wooden plantation shutters are the perfect solution. Interior shutters are one of the only window treatment options that can permanently alter a room's aesthetic appeal without sabotaging its existing design and even improve the value of a home. Our plantation shutters are custom-crafted to last as long as your home, making them a valuable investment that you'll treasure for a lifetime.
Cordless Operations
Our wood and faux-wood plantation shutters are always designed without cords, making them inherently safe—especially in households with children and pets. Helping customers create safer homes without sacrificing aesthetic appeal is what we do best, and it's one of the many reasons we're considered the window treatment company of choice by Winter Garden residents.
Installed by our very own, factory-certified employees—never subcontractors—your new wood or faux-wood shutters are sure to seamlessly improve the beauty and quality of your home. Get in touch with our personable team today to learn more about our window treatments! We serve homeowners throughout Winter Garden, FL, and the surrounding areas.