Why Honeycomb Shades are Such a Great Investment for Orlando, FL, Homeowners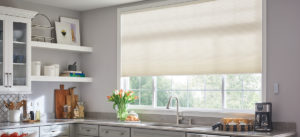 Do you find that one or more of your rooms in your home in Orlando, FL, heats up in the summer? It's a common problem that many Floridians face. And if you research what to do about your problem, you will likely find that resources say you need to replace your windows, roof, or AC unit (or a combination or the three). However, did you know another way to help cool down a room is to have honeycomb shades installed? Yes! The unique design of honeycomb shades, also known as cellular shades, trap air around your windows, helping your HVAC unit to work more efficiently and thus, keep your home a more comfortable indoor temperature.
Where Should You Buy Honeycomb Shades?
Homeowners and interior designers look no further than US Verticals when they need top-of-the-line honeycomb shades or another type of window treatments. We have an expansive showroom located in the Orlando area that houses all of our product offerings, allowing you to touch and feel the products for yourself. In addition to having a showroom stocked with all of our products from leading names like Alta Window Fashions and Norman Shutters®, we also exclusively employ highly trained and experienced craftsmen, never unqualified subcontractors. With US Verticals, you can rest assured that the products and the installation will be nothing less than the very best.
To learn more about honeycomb shades, contact US Verticals today and feel free to stop in to our showroom. We are proud to serve residents of Orlando, FL, and throughout the surrounding area.