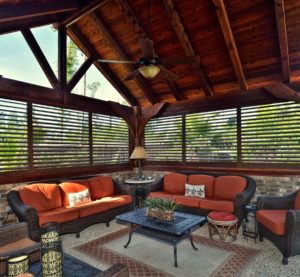 From rushing traffic and wailing sirens to noisy neighbors and barking dogs—noise pollution is everywhere. Excessive noise can make it difficult to sleep at night and greatly impact your quality of life. But soundproofing a home is expensive and often requires extensive construction work. Thankfully, there are easier ways to block out unwanted noise, and replacing your window treatments is a great place to start. While there aren't any window coverings that will eliminate outside noise entirely, there are styles that will dampen it, and wooden plantation shutters are the most effective choice. Keep reading to find out how wooden shutters do in fact reduce noise.
How Do Wooden Shutters Reduce Noise?
Sound will sneak into any gaps it can find, making your windows incredibly susceptible to noise intrusion. Plantation shutters reduce noise better than other types of window treatments because they are installed directly over the window, creating an additional layer of insulation. They also shut completely, like a set of doors, which makes it even more difficult for noise to find its way through. However, plantation shutters come in many different materials, and while all of them will help reduce noise in some capacity, wooden shutters work the best. This is because wood is solid and has natural soundproofing properties that can help dampen noise.
Have Plantation Shutters Installed in Your Home
Plantation shutters are a great choice when it comes to soundproofing as they are both beautiful and effective. However, in order for the shutters to effectively dampen noise, they need to be installed correctly. US Verticals can custom size your new shutters and install them flush with your windows to ensure maximum soundproofing. We are a professional window treatment company that's been in business since 1988, and we have decades of experience installing plantation shutters. For a more detailed answer to the question "how do wooden shutters reduce noise," contact us today. We would be happy to tell you more and help you decide whether plantation shutters are a good fit for your needs.