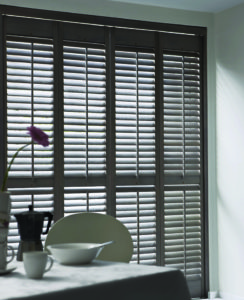 Plantation shutters are stunningly beautiful and can make a statement in any room they're installed in. However, they're also expensive and tend to cost more than other types of window treatments. This leads many homeowners to wonder whether plantation shutters are really worth the cost. The answer to this question is yes, and here's why:
Plantation Shutters Can Add Value to Your Home
Plantation shutters are the only type of window treatment that's considered a permanent fixture, which means they stay with the home when it's sold. Because of this, having interior window shutters installed can increase the appraisal value of your home, making plantation shutters a smart investment that's worth the cost. They also lend your home that "wow" factor that makes a great impression on potential buyers, which is something to consider if you're planning on moving in the coming years.
Plantation Shutters Can Help You Save Energy
Because of their insulating properties and ability to let fresh air and sunlight in while keeping heat out, plantation shutters are heralded by Southern homeowners. These window shutters will help you beat the heat during the hottest Florida summers and make it easier for your HVAC system to cool your home. This could reduce your energy consumption and help you save money.
Plantation Shutters Are Timeless
One of the great things about plantation shutters is their timelessness. Unlike trendy designs that come and go, these window shutters are always in style, making the cost of plantation shutters worth it. They are also highly versatile and look just as beautiful in a casual beach house as they do in a sleek modern home.
Plantation Shutters Are Child-Safe
Anyone with young children knows how important safety is when it comes to home fixtures. Unlike shades and blinds, shutters are operated with a tilt rod, rather than a string or cord, so you won't have to worry about dangling pieces hanging where little hands can grab them. Not only does this make window shutters a child-safe option, but it also allows for a clean and sleek appearance. The shutters can also be motorized, making them even easier to operate.
Get a Quote
The cost of plantation shutters can vary greatly depending on the shape and size of your windows, the type of shutters you want to have installed, and many other factors. Ultimately, your own needs, preferences, and budget will determine whether or not plantation shutters are worth the cost. To get an accurate quote and helpful answers to any questions you may have, contact US Verticals today. We're a professional window treatment company that's been in business since 1988 and can help you decide whether window shutters are the right choice for your home.